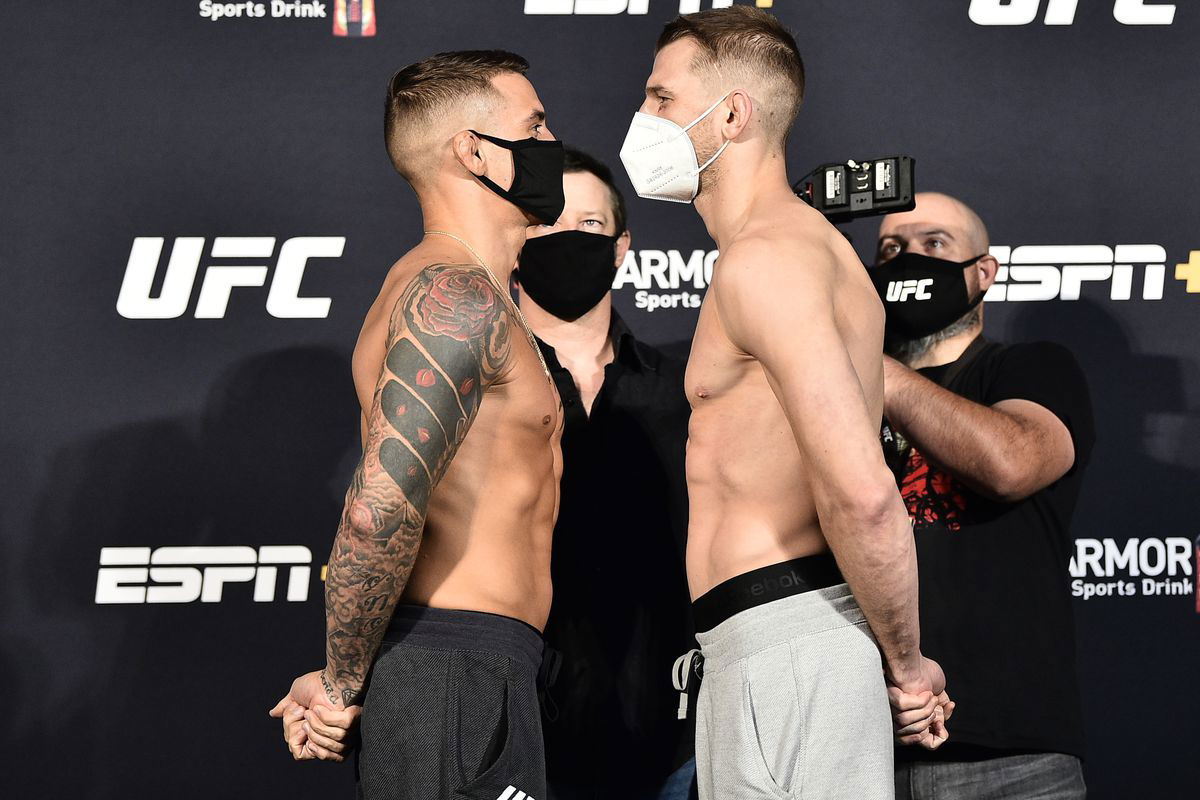 UFC on ESPN 12 promises to be an event box office hit, with the entire card littered with incredible fights. Dustin Poirier and Dan Hooker will headline the event, which will take place at the Apex Center in Las Vegas.
Predictions and analysis for UFC on ESPN 12:
1. Dustin Poirier vs Dan Hooker
'The Diamond' Dustin Poirier will look to win again after suffering a loss to Khabib Nurmagomedov in his previous fight. Poirier was on a streak of 5 consecutive wins before his loss, and last won against Max Holloway in April 2019. In contrast, Hooker has had a steady climb to the top, with 'The Hangman' currently ranked no. 5 in the lightweight ranking. He has accumulated a record of (20-8) and is on a streak of 3 consecutive wins. Additionally, he defeated Paul Felder in his last fight, winning by split decision.
But Poirier's skill set and experience in the division might be too much for Hooker. Despite Hooker's impressive performances, he is unlikely to be able to defeat Poirier.
Dustin Poirier is arguably the best striker and he also has a very solid ground game. . This fight could go a long way, as both men are known to be very difficult to break.
Prediction: Dustin Poirier defeats Dan Hooker by decision
2. Mike Perry vs. Mickey Gall
As the fighters engaged in a war of words during the preparation of the fight, both men will seek to resolve their differences in the octagon. Mike Perry could cause a lot of trouble for Mickey Gall, as he is considered the best striker. Also, Perry's takedown defense could prevent Gall from executing his game plan. On the other hand, Gall will seek to take down Perry during the fight, with his characteristic bottlenecks as a potential threat to Mike Perry.
However, if Perry can stop takedowns early in the fight and connect with solid shots, he can end the fight in the first few rounds.
Prediction: Mike Perry knocks out Mickey Gall in round 2
3. Gian Villante vs Maurice Greene
Gian Villante will make his heavyweight debut against 'Crochet Boss', Maurice Greene. Villante has struggled for form in the light heavyweight division and comes from a disappointing loss against Michał Oleksiejczuk. Similarly, Greene is on a 2-fight losing streak, suffering losses to Aleksei Oleinik and Sergei Pavlovich.
However, Greene does have a massive reach advantage over Villante. If Maurice can maintain his range and bring the fight to the ground, he can certainly steal victory from Villante.
Prediction: Maurice Greene defeats Gian Villante by decision
4. Brendan Allen vs Kyle Daukaus
Kyle Daukaus is set to make his UFC debut against a fit Brendan Allen. Allen is heading into this fight as the clear favorite, and will look to continue his good form streak against the rookie. Both fighters will seek to bring the fight to the ground early, with bottlenecks being a big part of their game plan. However, Allen's skill set and experience could cause a lot of trouble for Daukaus, and he will look to end the fight in the early rounds.
Prediction: Brendan Allen defeats Kyle Daukaus by submission in round 2
5. Philipe Lins vs Tanner Boser
Philipe Lins and Tanner Boser will square off in a heavyweight fight, in what is considered a close matchup. Lins will seek to wear his jiu-jitsu and bring Boser to the ground. Also, Philipe Lins is known to be a powerful striker and can cause Boser trouble early in the fight. On the other hand, BOser will seek to push the fight into the later rounds, hoping to tire Lins. However, his lack of power could be a serious disadvantage against Philipe Lins.
Prediction: Philipe Lins defeats Tanner Boser in round 2
6. Sean Woodson vs Julian Erosa
Julian Erosa accepted the fight against Sean Woodson in the short term after Kyle Nelson withdrew from the fight. This could be a serious disadvantage for the former, especially against undefeated Woodson. Erosa is (1-4) in the UFC and has suffered multiple knockout losses in promotion. Too, Sean Woodson has a surprisingly clear lead and should be able to finish Erosa in the early rounds.
Prediction: Sean Woodson beats Erosa in round 1
What are your predictions for the fight? Let us know in the comments below!
ALSO READ: Look- Mike Perry Promises Mickey Gall An "Enlightened" Fight In Showdowns
Continue the conversation on Telegram, join other MMA fans in MMA Fan Group