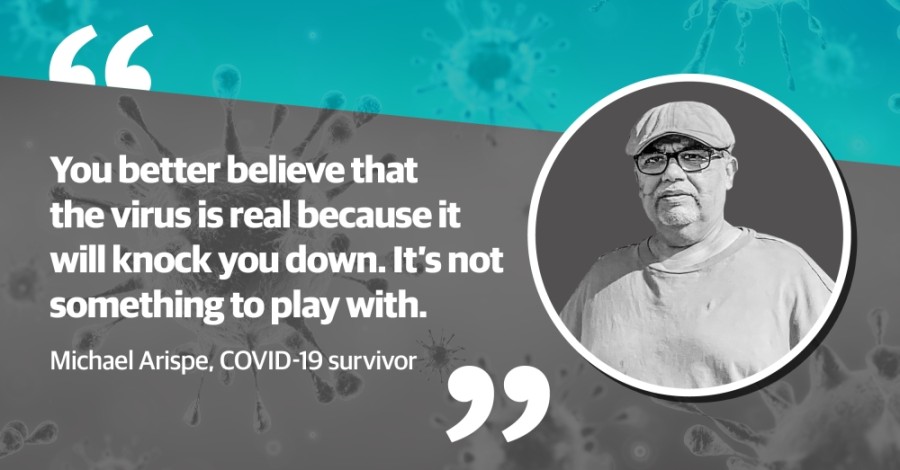 Michael Arispe, a 59-year-old diabetic who lives in South Austin, went to the doctor's office with a severe cough on March 18, during the early stages of the coronavirus pandemic in Travis County. He was prescribed cough syrup, told to quarantine as a precaution, and sent home.
Her condition worsened over the next four days and she developed fever and chills. He went to urgent care, where, after checking his blood pressure, staff said he could have COVID-19. Arispe said they loaded him into an ambulance and took him to St. David's South Austin Medical Center for further testing. Arriving at the hospital that night is the last thing Arispe remembers until he wakes up 24 days later.
"The nurse said, 'We will treat you as if you have the virus. We are going to rub you, and the good thing is that we have a lot of fans, so you don't have to worry, '"said Arispe Community Impact Newspaper June 12. "That's the last thing I remember."
Monica Arispe, Michael's wife of over 30 years, was unable to see him in person for the 58 days after she left him for her urgent care appointment on March 22 due to security restrictions related to COVID-19. Monica said the doctors and nurses at St. David's were very helpful in keeping her informed during the stay. She said she had a routine calling St. David's for updates six to seven times a day while Arispe slowly recovered from COVID-19. Every day went through every emotion: from fear and sadness when Arispe's blood pressure dropped, to joy and optimism when vital signs showed improvements.
"It was difficult and you realized how easy it is for your loved one to be taken from you," he said. "I think people need to wake up and realize that [COVID-19] it's for real. We are living proof that it can happen to anyone. "
When Arispe started to return to normal and recovered her memory, the two began to call each other on video using Facetime to stay together while staying in the hospital.
"I am blessed; the staff said I am a miracle patient, and they didn't think I was going to make it, but I did it," said Michael. "You better believe the virus is real because it will knock you down." It's not something to play with. "Although his symptoms of COVID-19 decreased, other conditions related to his prolonged hospital stay remained. He said that COVID-19 affected his nervous system, causing a burning sensation in his feet. In addition, during his hospitalization he developed a boil on the thigh that became infected.COVID-19 prevented surgeons from operating because the risk of surgery while showing low vital signs could have been fatal, he said.
"They are learning that this virus affects people in different ways," said Arispe. "I know there are some people who say their lungs are on fire. My lungs never felt like this, but I had other things as a result of the virus. "
Once released from COVID-19 and after surgery on his thigh, Arispe was transferred to two different hospitals where he remained for a month for further rehabilitation efforts. Due to surgery, a prolonged period of inactivity and weakness in his hands and legs, he said he had to learn to walk again. Arispe returned home on May 20 and greeted his family in person for the first time in months. He said one of his neighbors was surprised to learn that he had not been home due to COVID-19, thinking that the virus was not real until talking to Arispe. "We almost don't go out anymore, but if we do, we get totally mad when we see people without a mask on, as if they don't believe it's happening," he said.
Monica said that since Arispe's return home, he has continued to improve, but that it is a long road to a full recovery. COVID-19 has been something the family has had to deal with on a daily basis and has impacted their lives greatly, she said.
"I've been asked, 'How can this happen to him? Is he such a kind person? People need to realize that this virus doesn't care what color you are; it doesn't care how much money you have, what your social status is or what it does. If it will affect you, it will, "he said.
.