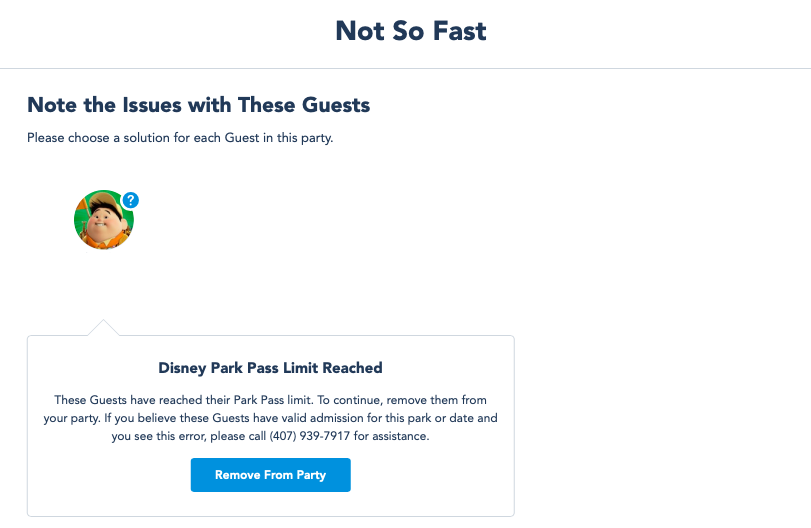 Early in the morning with the launch of the Disney Park Pass for Annual Pass Bearers, we ran into an interesting problem with the reservation process. After booking theme park reservations for our respective resort stays earlier in the week, we weren't sure if we would also get our 3 annual Pass Carrier reservations in addition to those.
When trying to make additional reservations today, we discovered that we could only make a reservation before receiving the "Not so fast" error page in the Park Pass system.
Some annual pass holders have reported that they were unable to make any additional reservations at a theme park other than those they could make linked to their resort reservation. (Meanwhile, other access points have been able to make additional reservations, so their mileage may vary.)
Disney states the following on its Annual Pass Bearer "Know Before You Go" page:
"All annual pass holders are eligible to make theme park reservations for up to 3 days at a time, or annual pass holders staying at select Disney Resort or other select hotels with valid theme park admission are eligible to make theme park reservations for the entire duration of the resort stay. "
Annual pass holders appear to be limited to 3 Disney Park Pass reservations or a set number of reservations allocated through a resort reservation.
If you are an Annual Pass holder and have already made theme park reservations through a resort reservation, you may be blocked from making 3 additional reservations. Availability goes faster for annual pass holders, so this may be how Disney regulates theme park reservations.
Are you an Annual Pass holder who was unable to secure additional bookings today? Let us know in the comments.
Related