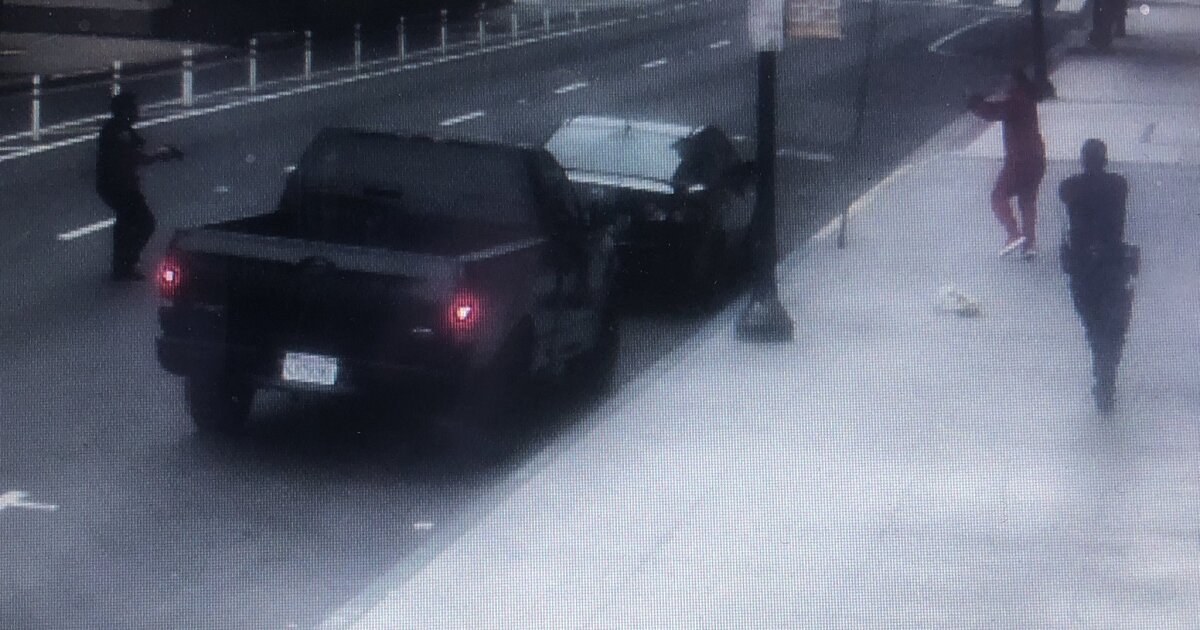 On Saturday night, San Diego police officers shot and wounded a man who they say was a robbery suspect who pointed a gun at them.
The shooting occurred around 5:45 pm on Sixth Avenue near B Street in downtown San Diego.
Police said on Twitter that the 25-year-old Latino man was suspected of a robbery that occurred on Sunday.
Two officers driving downtown Saturday recognized the man on a flyer representing the suspect and approached him, San Diego Police Captain Rich Freedman said.
When he saw the officers, he turned around and started walking south on Sixth, Freedman said. When officers got out of his vehicle and told him to stop, he dropped the items he was carrying, reached into his waist and pulled out a pistol that was aimed at officers, Freedman said.
"Fearing they were going to be shot, the officers responded to the fire," Freedman said.
He was hit by gunfire from both officers, police said. He was taken to a hospital, where he underwent surgery. His prognosis was unknown, Freedman said.
Freedman did not reveal the man's name, nor details of the robbery that the police were investigating, except to say that it was someone who "hit someone and stole some property," Freedman said.
The shooting was captured on a company's surveillance camera, police said. Authorities released an image of the footage on social media that showed two officers with guns pointed at a man dressed in red who appeared to point an object at one of the officers. The image is not clear enough to distinguish what the element is.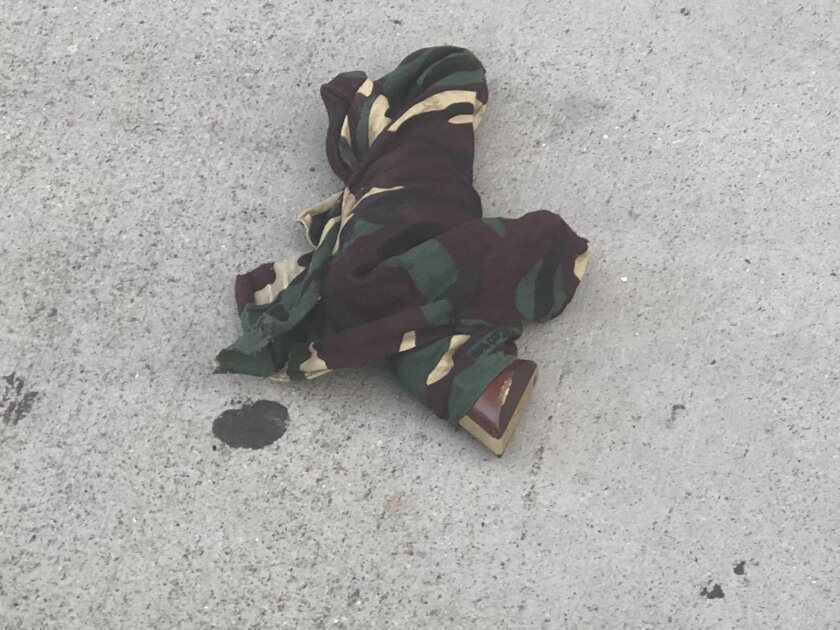 Police released a second photo of a weapon they said was recovered at the scene. The photo shows a pack of camouflage-patterned fabric with what appears to be the wooden handle of a gun protruding from the bottom.
Homicide detectives arrived on the scene to investigate, as they do in all officer-related shootings. The United States Attorney's Office and the FBI are also monitoring the investigation. The officers involved will be placed on administrative leave according to standard protocol, Freedman said.
A video posted on Twitter showed police flooding the area and officers who appeared to be trying to resuscitate a person on the sidewalk outside PATH San Diego's Connections Housing.
Sixth Avenue has been blocked as police investigate.
Around 100 spectators gathered around the police tape, many of them yelling at officers and demanding answers. They chanted "Hands up, don't shoot."
The shooting comes amid fury over the death of George Floyd, a black man who died while in Minneapolis police custody. The death sparked massive protests across the country in recent weeks and new calls for racial justice and police reform.
Community activist Tasha Williamson, who recently ran for mayor, said her name was Leo. "He had a lot of life," he told reporters at the scene.
"If that wasn't a weapon, we want the police to charge," he said.
The San Diego police decision to reveal footage of the incident so quickly in the investigation is rare and an apparent attempt to moderate early outrage in the community on Saturday night.
Calls were stepped up for immediate video footage of the incident, including that of cameras used by the officer's body. Police promised they would "as soon as we can."
"I am calling the @SanDiegoPD Camera images of the 6th bird. & B st. officer involved shooting tonight, "the Rev. Shane Harris, president and CEO of the People's Alliance for Justice, said on Twitter." I also hope that the Citizens Review Board will review this incident. I am not drawing conclusions about what happened or who has the blame. I'm asking for transparency. "
Tribune photojournalist Sam Hodgson contributed to this report.
window.fbAsyncInit = function() { FB.init({
appId : '119932621434123',
xfbml : true, version : 'v2.9' }); };
(function(d, s, id){ var js, fjs = d.getElementsByTagName(s)[0]; if (d.getElementById(id)) {return;} js = d.createElement(s); js.id = id; js.src = "https://connect.facebook.net/en_US/sdk.js"; fjs.parentNode.insertBefore(js, fjs); }(document, 'script', 'facebook-jssdk'));