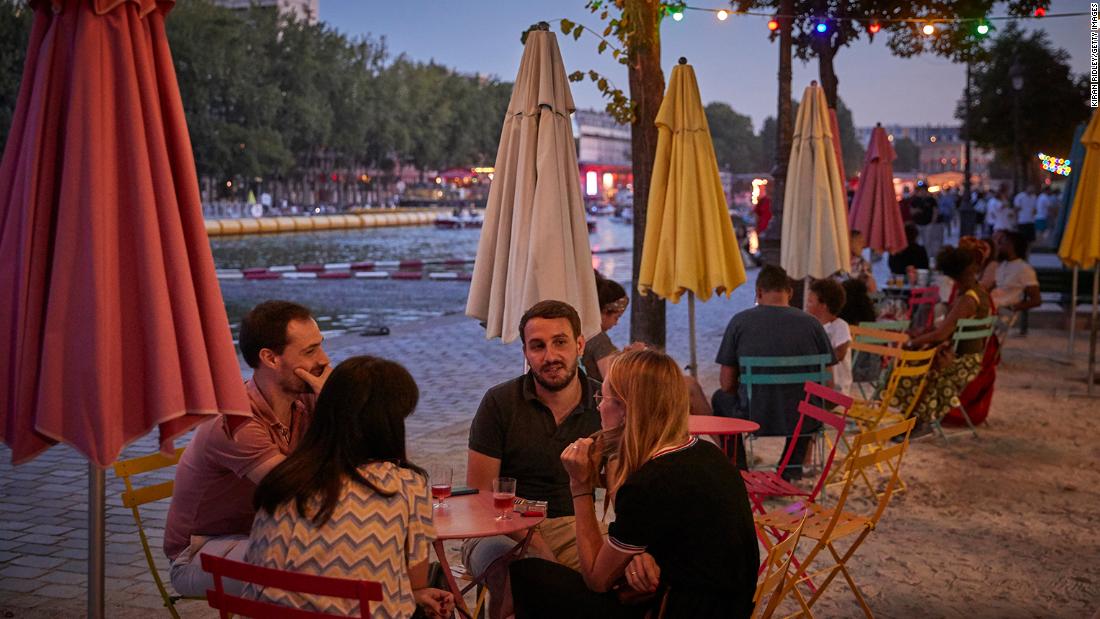 Curfews will be in place in the French capital and the cities of Marseille, Grenoble, Montpellier, Toulouse, Saint-Etienne, Lille, Rouen and Lyon, starting at midnight on Friday from 9 to 6 p.m.
"The goal is to reduce private contacts, which are the most dangerous contacts," Macron said Wednesday.
Violation of the curfew at night will result in a fine of 135 euros (approximately 160 160) for the first offense and 1500 euros (1, 1,760) if the offense is repeated.
France recorded 22,591 new cases and 95 deaths on Wednesday, leading to a total of 779,063 cases and 33,037 deaths.
UK Health Secretary Matt Hancock announced on Thursday that London would move to a "higher" warning level of coronavirus ban from Tier 1 "medium" on Saturday.
That means Londoners will be banned from mixing with other homes inside the home in any setting, including pubs and rest restaurants rent. Outdoor gatherings will be limited to six people and people should avoid using public transport where possible.
"We know from the first peak that the infection can spread quickly and put tremendous pressure on the NHS, so we must take action now to prevent the need for more drastic action later."
The new Tier 2 restrictions will take effect on Saturday at 00:01 BST (7:01 p.m.).
Earlier on Thursday, London Mayor Sadiq Khan warned that the epidemic had reached a "critical moment" in the capital, warning that the virus was spreading rapidly "in every corner" of the city.
"Hospital admissions are coming to an end, more patients are receiving intensive care and, sadly, the number of Londoners dying every day is rising again," he told the London Assembly.
Inside
Statement posted on Twitter
"It's better to work early than to work too late," he said, adding: "I'm not prepared to risk the lives of Londoners."
He called for more action at the national level and reaffirmed support for a "circuit breaker" lockdown.
A printprint paper written by scientific advisers to the UK government claims that thousands of coronavirus deaths could be avoided before the end of the year if a two-week circuit-breaker lockdown is imposed soon.
The paper suggests that it could reduce deaths by up to 49% between now and the end of the year, depending on the growth rate of the virus. But in a statement issued Wednesday, the authors warned, "It is not fair to say that we are predicting a certain number of lives to be saved; in the worst case scenario will never be allowed to continue without intervention."
UK Prime Minister Boris Jones on Wednesday implemented a three-tiered coyote warning system in England, emphasizing local sanctions. But he rejected the opposition's demand for a "circuit breaker" national lockdown.
UK government figures put the number at 19,724 new cases and 137 deaths on Wednesday, reaching 654,644 and 43,155, respectively.
Northern Ireland is closing schools, pubs and rest restaurants on Wednesday, with a record 1,217 new Covid-19 cases reported across the country, bringing the total to 23,115.
Wales will ban travelers entering the country from coronavirus hotspots in England, Scotland and Northern Ireland from Friday, Welsh First Minister Mark Drakeford announced on Wednesday.
Merkel is 'upset' about 'exponential growth' in cases
German Chancellor Angela Merkel is also imposing strict sanctions Coronavirus hotspots, said she felt "uneasy" about the "fatal increase" in coronavirus cases in the country.
Social gatherings will be limited to 10 people and bars and restaurants should be closed by 11pm where the infection rate is highest.
Speaking at a news conference on Wednesday after a meeting with leaders of Germany's 16 states, Merkel said a limit would be imposed if a region recorded at least 35 new infections in 100,000 people in seven days. If that number exceeds 50 new infections per 100,000 further steps can be introduced.
The sanctions will be evaluated in the next 10 days to see if they have reduced the rate of the virus. Merkel also addressed young people in Germany, saying "do without a few parties."
The number of cases in Germany rose to 6,638 in 24 hours on Thursday, bringing the total to 341,223, according to figures released by the Robert Koch Institute (RKI) on Thursday. The highest daily increase on March 28 was 6,294.
Germany also recorded 33 new deaths in the last 24 hours, the RKI added, bringing its total to 9,710.
The Czech Republic recorded a record 9,544 new cases on Wednesday, an increase of 926 from the previous record last Friday, the Czech health ministry said.
The total number of cases has reached 139,290, according to Johns Hopkins University figures.
"The forecast is not good, the numbers are disastrous," Prime Minister Andrzej Babis said on Thursday.
Czech government figures show that 35 deaths were reported on Wednesday, with the death toll reaching 1,172, while 2,678 people were hospitalized with coronavirus.
The new restrictions were introduced on Wednesday, with schools closed and bars and restaurants allowed to serve through windows until 8 p.m.
Russia also had 286 coronavirus-related deaths in the last 24 hours, according to figures released by the country's Coronavirus Response Center on Thursday. Russian officials said the total death toll now stands at 4,911, although the number is likely to rise due to reports of more deaths and calcification in the country this year.
A further 13,754 new cases have also been reported, bringing the total number of infections to 1,354,163.
Russia is experiencing record growth every day, with health officials reporting about 2,000 cases a day during the spring summit, compared to about 10,000-1,000 cases a day in the country.
Moscow is seeing a record increase in daily cases of coronavirus, close to 1,000 a day, but city officials have not yet moved to shut down the facility.
From Monday, visitors to nightclubs and bars that are open during midnight will have to scan the QR code or text a special number to help with contact tracing.
The number of coronavirus hospital admissions in Moscow has increased by 15.5% in the past week, the city's anti-coronavirus emergency center reported on Thursday, taking 1,196 Kovid-19 patients to hospitals in the last 24 hours.
CNN's Nada Bashir, Fred Platzen, Martin Goilendau, Tomas Atzer, Peter Taggart, Sarah Dean, Stephanie Hallaz, Thomas Atzer, Jo Shelley, Mary Illushina, Nina Avramwa and Jahid Mahmood contributed to the report.
.