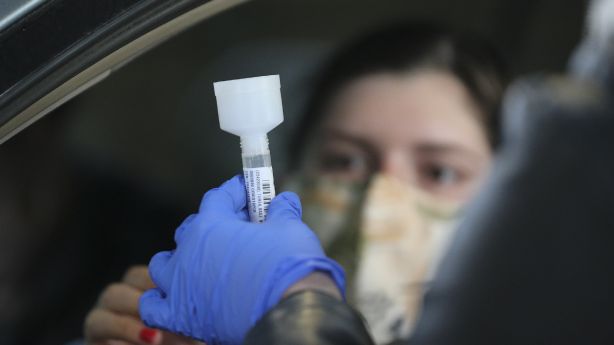 Salt Lake City – Dr. Mark. For physicians like Mark Briasher, the trends in COVID-19 over the past two months are a welcome sight.
The average of Utah's seven-day new Covid-19 cases dropped 87% from its latest peak on Jan. 9, according to data from the Utah Department of Health. The current average is now 419 new cases per day, the lowest in six months.
As cases have decreased, the pressure on hospitals has gradually diminished. As of Friday, there were 130 hospitalized for COVID-19, the lowest number of COVID-19 hospitalized since mid-September.
Even more serious cases have gone down: 74% of state referral centers have ICUs filled, which is a sign below the warning threshold. Statistics from the state health department show that statewide ICUs are also %%% full, which is also below the threshold.
Data also show that both referral center ICUs and statewide ICUs have reached 10% of ICU capacity as a result of this week's COVID-19, for the first time since mid-September. On January 15, both reached 44% and 45%, respectively.
On top of that, the COVID-19 vaccine was opened for all Utahns 16 and up, working to drastically change the number of Utahns vaccinated in the coming weeks.
"We're excited by the trends we're seeing, largely because that's what it means for patients and families," said Brimasher, chief physician at InterMoontaintal Healthcare. "The fewer people in the hospital, the less people get seriously ill. It's really good to see."
While there is good news about COVID-19 trends, Briasher said there is still a risk that the epidemic will end too soon. That's why he and other public health experts carefully lead the school's spring break and the statewide mask order technically expires on April 10th.
For starters, more people need to be vaccinated and it is impossible for at least 70% of the adult population to be vaccinated in a week. Briasher also noted that there has been a significant drop in cases over the past few weeks, with a relative increase in the number of 400 to 500 new cases reported each week.
---
I have a lot of sympathy for the fact that this disease is still creating such a burden for our communities and individuals and families. We have to be vigilant and keep moving in the right direction until we can really get rid of this thing.
R d. Mark Briasher, Chief Physician Executive at Intermvanthan Healthcare
---
State epidemiologist Dr. Angela Dunn also pointed out in recent weeks that the number of new cases was platoing.
"It still represents a lot of new cases," Briasher said during a question and answer session on Friday. "We still have transmission rates in that 7% to 8% range, so we have to be vigilant in terms of infection control, especially in health care facilities."
He likened the epidemic to a marathon – it's okay to celebrate a victory along the way, but the race isn't over. The point is that the ultimate goal is not to have COVID-19 infection numbers at the level seen six months ago, so many new cases, serious cases and as many deaths as possible are to be eliminated.
"I think it's good to feel good about how we've responded to any community, especially our communities," he said. "Let's be vigilant. Let's not lose our edge; let's not forget how serious this is. Still die from UTHID-1 from and when you did what you used to do. When comparing, you may wrongly conclude that, boy, things are fine because they are so much better.
"But if you focus on a certain number … it's the people and families who are really affected in a difficult way," he added. "I have a lot of sympathy for the fact that this disease is still placing such a burden on our communities and individuals and families. We can't really tamper with this unless we remain vigilant and continue to move forward properly. . "
Brysher addressed Friday and there are now a few potential hurdles between reaching COVIDE-19 to mob immunity.
One is that the spring break at many Utah schools also began this weekend or is on the horizon. Briasher recommended that families planning to travel during the break focus on activities that may be "more outdoor in the group," such as camping in smaller groups.
"We all saw pictures on the beach in Florida and I know we won't be like that," he said. "But there's such a risk during the Thanksgiving holiday. You've seen the overwhelming response from the community to come together and really reduced the potential consequences of that Thanksgiving holiday."
The government's mandate is also set to expire on April 10, when the government will sign a bill passed in the legislature this week by government Spencer Cox. It is worth noting that it will be in place for schools and also for industries that determine the need for masks.
Businesses like Harms, Smith and Target have all said they will put their needs ahead of that date. Intermountain Healthcare has also announced that even after April 10, staff and patients are required to wear masks at its facilities.
Briasher said he sees April 10th as the beginning of a "personal health mandate" where individuals can avoid the possibility of other emergencies in cases when they decide to keep social distance in social places by wearing masks.
He added that IntermVanthan and other public health experts would continue to monitor the situation in the event of a further increase in cases and the future of the epidemic Covid-19 would take shape.
×
Related stories
More stories that might interest you
.