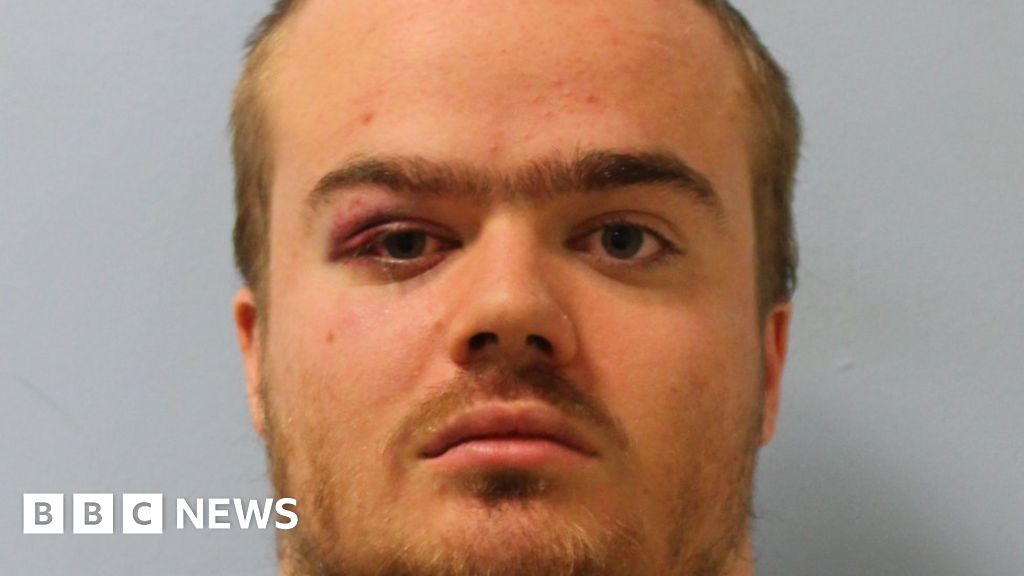 A teenager "smiled and shrugged" after throwing a six-year-old boy from a 10th-floor balcony at Tate Modern, according to a court.
Jonty Bravery, 18, searched the London art gallery for the most vulnerable boy before "picking up" the boy, the Old Bailey was told.
Prosecutors said the defendant, who admits to attempted murder, had planned an attack well in advance.
A judge will pass sentence on Friday after listening to psychiatric reports.
In her opening speech at the two-day hearing, District Attorney Deanna Heer said Bravery arrived at Tate Modern on August 4 and headed to the observation balcony.
'Without hesitation'
The court heard that CCTV footage showed him following young children and looking over the bars.
Another video showed the victim, who had been visiting London from France, jumping ahead of her family along the platform towards Bravery.
Ms. Heer said: "The defendant picked him up and, without hesitation, took him directly to the railing and threw him."
The boy "fell headfirst to the ground," landing on a fifth-floor balcony below, he said.
"CCTV also shows the defendant walking away from bars, you can see him smiling," Heer said.
"He has his arms up and seems to shrug and laugh. CCTV also captured the parents in disbelief and growing panic.
"They thought there must be a network, but they saw their son's distorted body."
The boy, who still requires 24-hour care, was lucky to survive, said Heer, who described the attack as "a whisper of murder."
She said the defendant admitted to planning to commit a crime and had "narrowed it down to three possibilities."
These were "strangling a woman or child, drowning a child, or throwing someone out of a tall building."
Ms. Heer said Bravery's search history included results of murder methods.
The prosecutor said that the doctors seemed to agree that the defendant suffers from autism spectrum disorder (ASD) and a personality disorder, both of which are relevant to understanding his behavior.
Ms. Heer said Bravery blamed social services when she was challenged by distressed witnesses moments after the incident.
The court heard that Bravery has no previous convictions, but had a history of assaulting his care workers, including one at Burger King in Brighton in April 2019.
Teen Tate Balcony told care workers about the plan to kill
Teenager shot the boy from Tate Modern 'to be on TV'
In the court
BBC News correspondent Helena Wilkinson
Jonty Bravery appeared via the Broadmoor Hospital video link to hear the prosecution describe the horrific events for which he was responsible last August.
Sporting a beard and wearing a white T-shirt with blue shorts, he sat in a chair for most of the audience.
Sometimes Bravery seemed focused. At other times he seemed distracted. At one point he could be seen with his shirt over his head.
As she listened to the details of what she did at Tate Modern last year, Bravery moved from her chair and crouched down on the floor to look at the wall.
The hearing was held under strict social distancing measures with everyone in the court sitting 2 meters away. The dock, where the accused normally sit, was used as additional space for the media.
The boy's family said Bravery's crime against his son was "indescribable."
In a statement taken six months after the attack, her parents said they had maintained an almost constant bedside vigil at Royal London Hospital.
This continued, they said, after he was transferred to a French hospital in September, and the family only rarely returned home to collect his belongings.
"We were forced to sleep in very difficult conditions in the 'family room' of one of the hospitals, on a mattress on the floor, in an air current, before finding an AirBnB nearby that offered better sleeping conditions and a place where to finally leave our things, "they said.
"In total, we have stayed in eight different accommodations so far and are about to move once again.
"We have been so afraid of losing it that it is now impossible for us to spend more than a few hours away from it," they said.
They said their son couldn't trust people and that he "would like to slap" Bravery for what he did.
"Our son lives in fear of meeting other villains in his life," they said.
Dr. Joanna Dow, a forensic psychiatrist consultant who works at Broadmoor Hospital where Bravery is being held, said she believed Bravery had a mixed personality disorder and was struggling to control her emotions.
She recommended that he be detained in hospital, rather than sentenced to prison, so that he could receive treatment for anger management and help learn social communication and interaction skills.
The hearing continues.
For more London news follow on Facebook, in Twitter, in Instagram and subscribe to our Youtube channel.