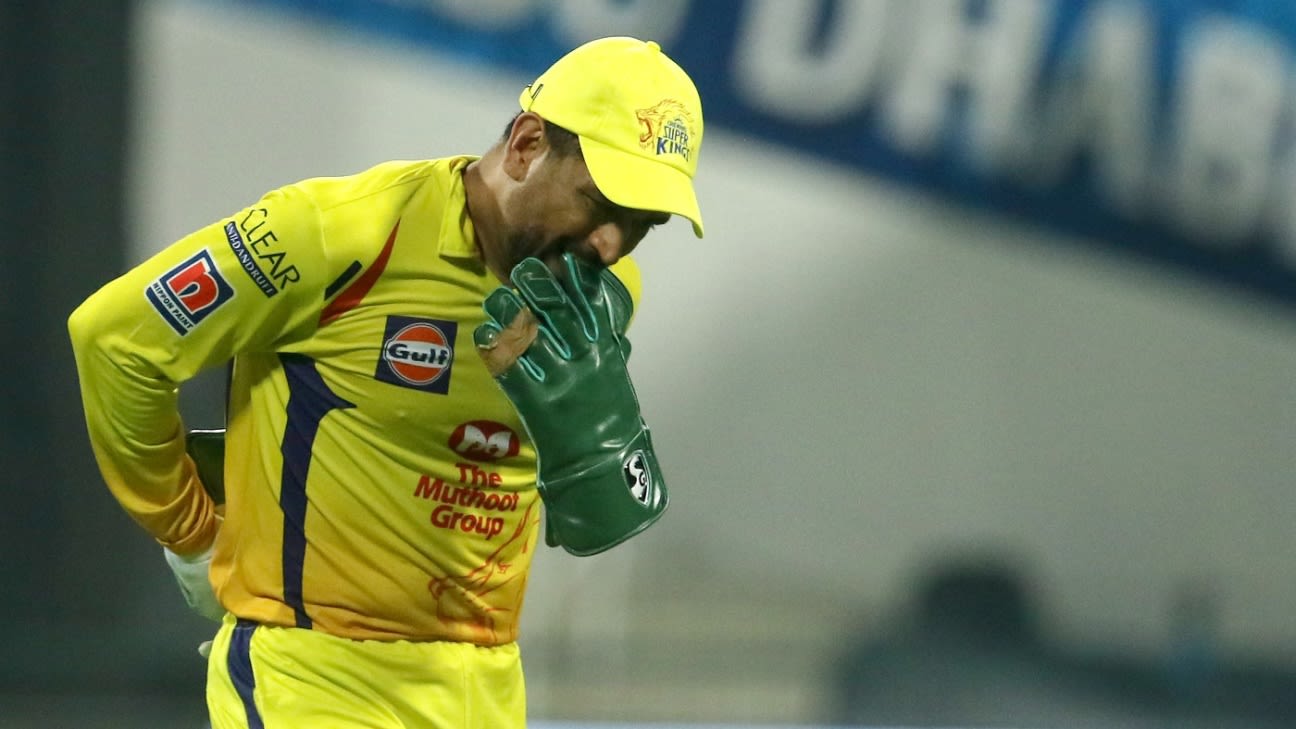 It is not often that Chennai Super Kings struggle at the start of the IPL season. This time round, however, they lost key players just before the start of the tournament, and Ambati Rayudu's injury weakened their batting to such an extent that they fell short in the back-to-back chase within the first ten overs. At the end of the 44-run defeat against Delhi Capitals on Friday.
His bowling hasn't quite clicked yet. His attack is more than the pitches coming to the UAE earlier this season at the previous MA Chidambaram Stadium for a spin friendly situation, and his spinners – especially Ravindra Jadeja – have struggled to find their groove.
After the defeat against the Capitals, their captain MS Dhoni and his head coach Stephen Fleming addressed these issues in their respective media interactions.
On batting
Dhoni: I think when it comes to the batting department, we lack a bit of steam. There is no momentum from the beginning, which hurts. If you're already chasing a 160-plus, the run-rate keeps rising and that puts more pressure on middle-order batsmen. So we need to figure that out. We're a better heavyweight to start with but at the same time, if you want one more seamer or spinner to get into the team, the batsmen need to take that extra pressure. I think Rayudu will be back in the next game now so he gives us the freedom to try something cushioned or something different.
Fleming: Well, we'll mess up a bit at the moment. We are missing some key players, and we are trying to find a balance that allows us to be competitive. We are looking to develop personality based on the wickets we are facing. Every wicket is quite different, and our batting line-up is, without Rayudu, [Suresh] Raina etc, we are trying to find a way or combination and how to use the players, and give the players early chances, so as soon as the tournament starts we know what we got. We've learned a huge amount in three days. Today's performance was a weak side in terms of purpose, but they (capitals) were also bowling very well.
On spin bowling
Dhoni: The thing is, if you look at the entire bowling department, they haven't been very consistent. So it's not like you can change four out of five bowlers. I think spinners, yes, they haven't come to the party yet.
Fleming: Yeah Al that sounds pretty crap to me, Looks like BT aint for me either, Looks like BT aint for me either, Looks like BT aint for me either, Looks like BT aint for me either, Looks like BT aint for me either. So guess what we're trying to do, there's a different personality. Spin still plays a part, and that's what we've struggled to do so far [is] We've played on three different grounds, so each game has been on different terms. We've been struggling to adjust to finding the speed and style of bowling from the middle, and that, especially in the last two games, has been an area where we haven't performed so well. So go with strength to the realm of anxiety; We need to fix it.
On team composition
Dhoni: I think the next seven days are the best break for us. We'll give the boys a little more match simulation and see how everyone is contributing, coming back with a clear picture of what the best combination is.
Fleming: All the bets are on the table at the moment because we are trying to find a way to be comfortable. We're looking forward to playing a number of games here (in Dubai), so we were really interested in how to play this pitch, and got the conditions right so we could get the right combination. At the moment we are really looking, as both players and management, to get the mix right. We are much better-heavy if we play extra barter and very bowler-heavy if we play extra bowler. We are struggling a bit to find our pace but it will take some time with the experience of these three games.
Not to promote Sam Quran or Jadeja on the basis of order
Fleming: We have used that tactic in the last few games, but Kedar Jadhav and M.S. Plus, we've got almost a lot of batting options at the moment, which is why I would say we were a little confused by what we were doing. To send out, so we need to be a little clearer of what we are doing, and maybe what we lose is a big contribution to the top. Yeah Al that sounds pretty crap to me, Looks like BT aint for me either, Looks like BT aint for me either, Looks like BT aint for me either, Looks like BT aint for me either, Looks like BT aint for me either, Looks like BT aint for me either, Looks like BT aint for me either, Looks like BT aint for me either. Continuing the order everywhere is not really our style, but we have to go there and we will review how it went.
On fast bowling
Dhoni: Overall, if we get more and more consistent with our length, line and pace, it will be good when it comes to team selection … not that we have been very consistent in fast bowling. We are delivering well, but in the meantime, we are offering a boundary opportunity. Maybe on areas like this – you know, big pitches – it's best to stick to one line and let the batsman play big shots instead of trying to do many things and creating a boundary.
.