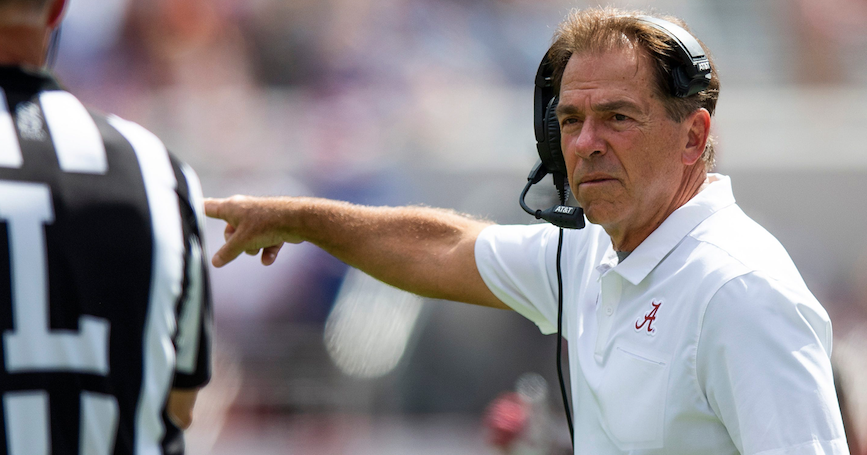 Alabama's soccer program earlier this week released a powerful video addressing the current problem of racial injustice in the United States. In the video, written by senior offensive tackle Alex Leatherwood, several Crimson Tide players and coach Nick Saban read the tackle's statement, and on Saturday, Saban shared some thoughts on the matter.
"I think we've had some indescribable events when it comes to how people are treated," Saban said on the Alabama Athletics' Summer Update radio show. "I don't think this is a moment of silence, and I said this to the players." And I don't think it's time to be violent.
"I think we can all benefit, because not all of us look through the same lens, to listen to other people and try to learn. But I also think we should understand that as athletes we have a platform, and our platform can really impact and affect change.
"And while people sometimes resist change, it's still a platform, whether it's race or gender, that has had an impact. Just look at what Jackie Robinson did in professional sports. We've tried to listen and learn, and we've also given players the opportunity to listen and learn. "
"At this point in history, we cannot be silent." pic.twitter.com/YF4ndJSpa0

– Alabama Football (@AlabamaFTBL) June 25, 2020
Over the past few weeks, the entire soccer team has participated in Zoom calls with multiple speakers. Former Secretary of State Condoleezza Rice spoke to the team two weeks ago. Last week, she was basketball Hall of Fame member Charles Barkley, while ESPN personality Stephen A. Smith addressed the team this week. Joey Galloway, also from ESPN, will soon do the same.
"They provide an interesting perspective for all of us, to listen and learn about how we can impact the community," Saban said, "… going and trying to help people who are in social and economic situations where they can't. get the kind of education that could help them improve themselves and their future and how we can impact those things. "
The now viral video generated a great response on social media, especially an overwhelmingly positive reaction from former Crimson Tide players who showed their support for the guys who are now on the show. According to Saban, the video will not be the last we know of them.
"It has been enlightening in so many ways that we have been able to learn by listening and learning from other people and listening to our players and getting their perspective on things," Saban said. "They have been very good about it and want to do something together as a team. We will do that, and it will be out shortly.
Did you know that BOL has a podcast? The Built By BamaOnLine Podcast brings you the latest Alabama news and insights from Travis Reier, Charlie Potter, Hank South, and Tim Watts. Catch the latest episode right here or subscribe on iTunes today!
Contact Charlie Potter by personal message or on Twitter (@Charlie_Potter)