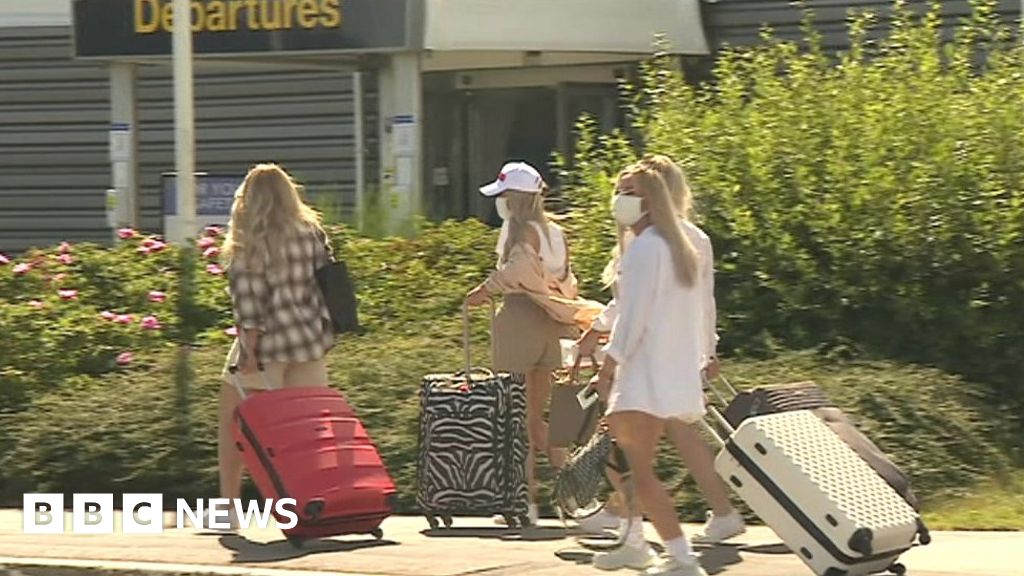 The government warned against non-essential travel to Spain after an increase in coronavirus cases.
The announcement earlier this week that people returning to the UK from Spain would have to be quarantined for 14 days left tourists with a dilemma: should they follow safety advice and throw away the vacation they've been waiting for months? ?
Or, should they go ahead and travel anyway, despite the potential health risk and the possibility of invalidating their travel insurance?
At the East Midlands airport, there seemed to be a lot of people at the last camp.
'Plane is more dangerous than Spain'
Adam Spinos of Long Eaton, Derbyshire, who was flying from the East Midlands airport to Ibiza, said he was more concerned about being on the plane than at his destination.
"I reviewed everything that is happening there and the situation, and it's fine," he said.
"I just want to see how the plane is going and the precautions the staff take so that people don't get drunk and behave too much, which will make me feel more secure."
Spinos said he decided to continue his vacation since he had never been to Ibiza.
"I just want to experience it, with caution, of course, and the sun, the beach, and relax a little bit … and we've promised ourselves a mojito," he added.
On Tuesday, Jet2 airline canceled its five outbound flights from the airport to Spanish destinations and said it was contacting clients abroad to discuss options for return.
'I have the right to travel'
Sheffield's Shona Lille said she was "eager" to go to Ibiza.
"I am excited," she said. "I am a traveler and should be in a different country every month, but I have not been anywhere else since last year.
"I will follow the guidelines and I will wear my masks wherever I need to, so I am doing everything. I just feel like I have a right to travel and I will travel."
Travel trade association ABTA said the FCO notice is issued "for good reason" and that travelers should know that their travel insurance will not be valid.
Spokesman Jonathan Smith said: "We would not advise people to go against the overseas office's travel advice, but the flights are still operating and people who choose to go should be aware of the risks involved."
"If they have travel insurance [which they should] so chances are they'll be invalidated if something happens to them while they're on vacation. "
'We paid for it, so we might as well go'
Kieron Brookes of Liverpool, who was also taking a Ryanair flight to Ibiza, said he understood the advice but was willing to take a risk.
"We reserved everything and paid for it, so we could spend a few days," he said.
"Obviously, the insurance is not valid if the overseas office says you can't go, but we only go for a few days, so we only hope for the best."
"It's just a tip at the end of the day, so if you decide not to listen to the tip, that's our decision."
Last minute decision
Samantha Lively of Birmingham said her decision to continue her journey was made at the 11th hour.
She said, "I didn't think I was going to go until about two hours ago when I thought, 'Yes, I will.'
"I hope it's calmer so that it's easier to stay away from everyone."
"I'm going to work too, so it's a little stressful."
Follow BBC East Midlands on Facebook, Twitteror Instagram. Send your story ideas to [email protected].