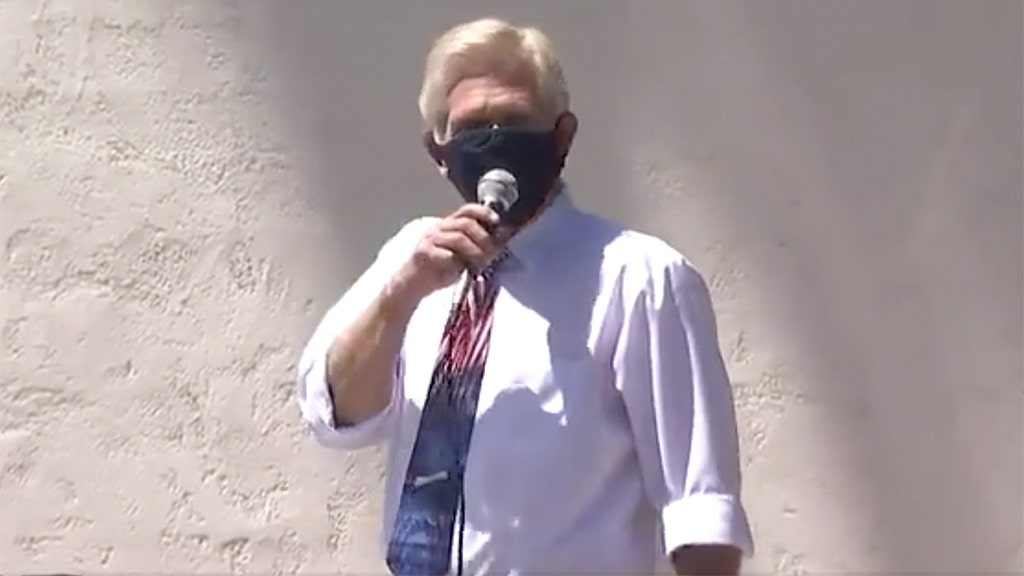 An Arizona councilman invoked the final words of George Floyd and Eric Garner during a mask rally on Wednesday.
Scottsdale City Council member Guy Phillips chanted "I can't breathe!" before removing the mask in front of a crowd of about 200 people attending a "Unmask" protest.
Phillips adopted the song, commonly used during protests against police murder of black people, in front of residents protesting the new mandatory face mask policy implemented after a massive increase in coronavirus cases, the Republic of Arizona reported.
Scottsdale Mayor Jim Lane quickly condemned the comments on Twitter, calling them "callous and callous."
OREGON COUNTY CORONAVIRUS MASK ORDER EXEMPTS "PEOPLE OF COLOR" WHO HAVE "INCREASED RACIAL PROFILE CONCERNS"
"Councilor Phillips' comments at his mask protest rally today at City Hall do not represent the values ​​of our Scottsdale community," Lane wrote, adding, "I sincerely hope that you understand how wrong it was and offer a sincere apology." .
Phillips initially maintained his comments when questioned by the Republic, stating that the chant "had no connection" to Floyd and that "it did not signify any lack of respect."
"It was hot and stuffy," Phillips told the newspaper.
SCIENTIST DEMONSTRATES THE IMPORTANCE OF USING THE CORONAVIRUS FACE MASK IN A SINGLE AIR FLOW VIDEO
But the legislator later issued an apology and apparently deleted his Twitter account.
"I regret a comment I made today that was the same comment that Mr. Floyd made," Phillips said. "He didn't deserve what happened to him and he was in no way trying to clear it up by saying I can't breathe a mask. Please accept my sincere apologies and that is for anyone who has been offended. "
CLICK HERE FOR THE FOX NEWS APP
Coronavirus cases in Arizona have skyrocketed since the state began reopening on Memorial Day weekend. On Tuesday, the state recorded a one-day record of 3,800 new COVID-19 cases, up from the 198 reported during the holiday.
This story originally appeared in the New York Post.