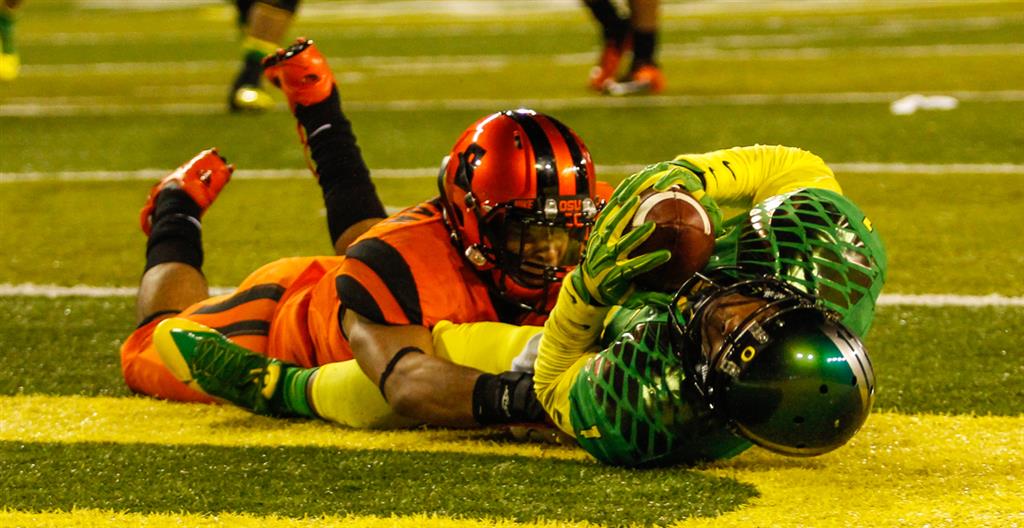 I have attended countless sports events in Oregon and Oregon State. Dozens of young people living in the Willamette Valley, and more recently many more as members of the media.
The title of the Civil War was attached to each meeting. In fact, throughout my life, a sports competition between these schools in any sport has been mentioned in that way. The term has been present in the background, and several times a year in the forefront of my life since I can remember.
It had never bothered me before. I never thought of its use in negative terms. It never made me pause and think. It was just tradition, and from my point of view, it conveyed the rabid nature of the rivalry appropriately.
I know I am not alone feeling this way.
The news on Friday that the Civil War would no longer join these rivalry games was jarring. I did not see that coming.
I know others don't either. I was surprised, and also a large percentage of the faithful from Oregon.
Earlier in the week, the University of Oregon announced another name change. This time it was the removal of Matthew Deady's name from a room on campus. Given Deady's history of racism and discrimination, this decision was widely praised and supported, because it is easy to understand.
It is not difficult to see why you want to remove his name from campus. However, changing the name of a sports rivalry is different. Especially when that nickname doesn't seem to have explicit racial implications.
Many are unhappy with the schools' decision, perhaps most ducks.
I surveyed my followers on Twitter. Of about 500 responses, 40 percent were against the change, while only 26 percent were in favor and 34 percent did not care in one way or another.
I understand why people are frustrated, disappointed, and angry. Think of all the great memories related to Civil War games. Oregon secured its first national title game against Oregon State. Marcus Mariota hit Josh Huff in the last moments to stun beavers. Think about women's hardwood games and how it has become one of the nation's premier women's basketball rivalry series. Even bad memories like the toilet without a tip.
Now you will never attend another Civil War.
People may also be angry that the Civil War moniker, like me, never offended them. Maybe they never thought twice about it either, and if they did, maybe they concluded that it didn't bother them.
But, the lesson I am learning right now is that just because I don't see or understand pain and pain doesn't mean that others aren't feeling it. The African American community is reeling at the moment, and if members of that community in our community consider the use of the Civil War and its links to slavery offensive and hurtful, then I am inclined to listen.
That is exactly what the Oregon and Oregon State leaders have done. I applaud you for your decision. This is a time to hear all voices, and I am glad that both schools have done so even in the face of an expected backlash.
Oregon Athletics Director Rob Mullens noted interactions with former Duck star quarterback Dennis Dixon as well as with current Oregon student-athletes as "catalysts for change."
"Being seen as one of the influencers in this state, I wanted to escalate it to some of my good friends that I played with at the University of Oregon, Garren Strong and Jonathan Stewart, "said Dixon in a video posted from the Oregon soccer Twitter account. "I really wanted to receive your advice. Both were sold on it. "
"But one thing they both told me was that in order for this to come true, we have to get current players as well as ADs and Vice Presidents to buy."
Oregon athletes were consulted in this process. Present and past. And a decision was made to change the name. That tells me that this was not done in any way. This was done with purpose and intention after meaningful dialogue with the right people. Academic and athletic leaders at our state's two main academic institutions came together on this. They decided to change the name.
For those of us who don't understand why this decision was made or what those athletes might feel, I think it's fair to give them the benefit of the doubt.
Finally, no one is monitoring anyone's use of those two words regarding this rivalry. Schools simply won't use it. You can call it whatever you want. I am sure that, like the Fashion Center in Portland, which I will always call the Rose Garden, there will be a faction of fans from both schools who will continue that tradition. I'm sure I'll be wrong and I'll call it that once in a while.
But for me and my writing, I will gladly adopt any title attached below.