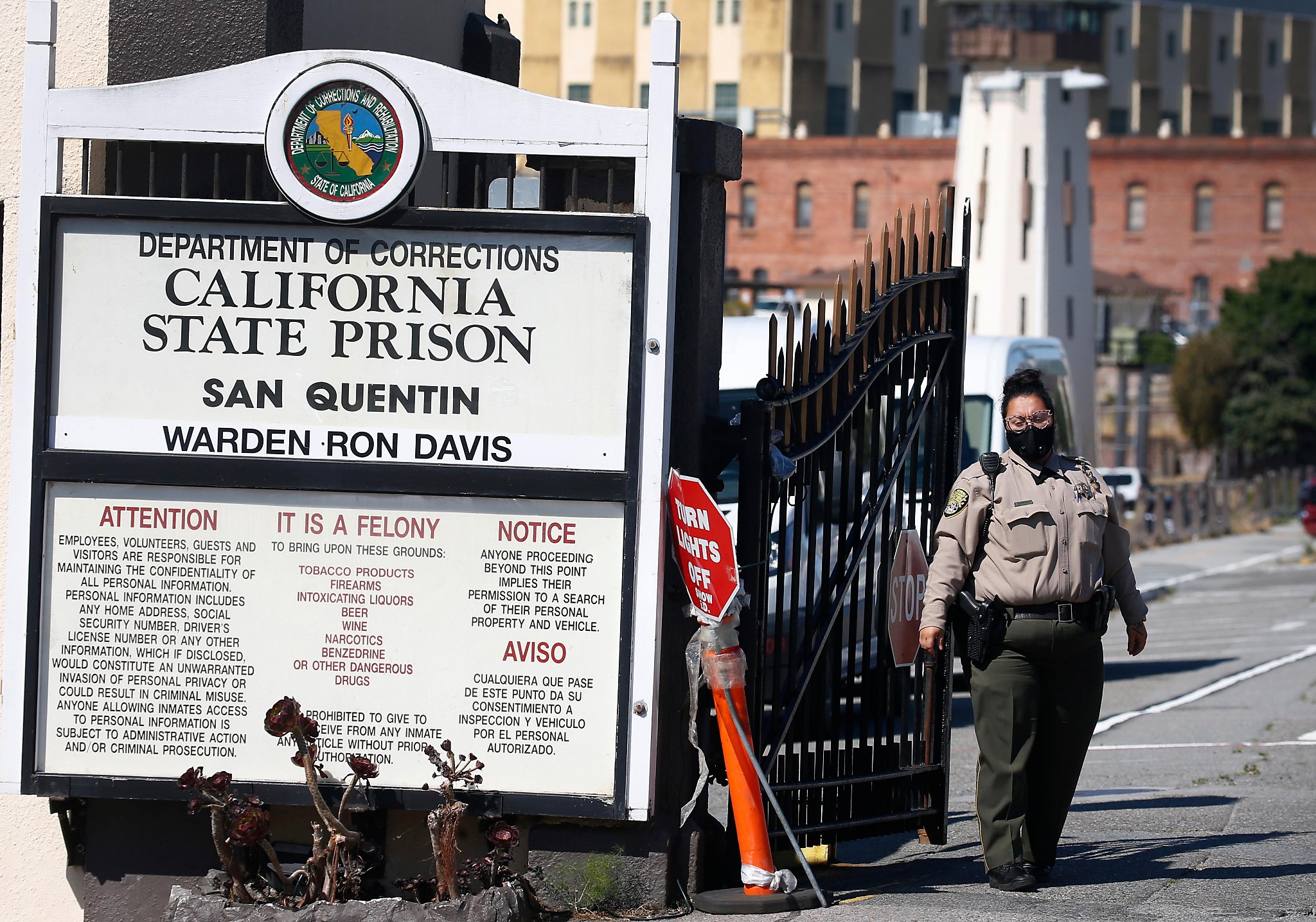 Amid a large coronavirus outbreak at San Quentin State Prison that has put the facility in crisis, an emergency transfer of incarcerated men to a prison in the Bakersfield area was halted after two people on the transfer list they tested positive for the virus, The Chronicle has learned.
"Additional tests for COVID-19 being performed on inmates scheduled for the transfer revealed two positive cases," Dana Simas, a state corrections spokeswoman, said in an email. "Those inmates are now in isolation and under medical surveillance."
The scheduled move, announced by the state department of corrections on Friday night, was widely criticized by advocates for prisoners and their loved ones, who said the transfer could spread the infection to another prison and that the men should be released to their communities.
Critics of the plan also said they were baffled because a similar transfer is what triggered the San Quentin outbreak in the first place, as The Chronicle reported.
San Quentin had no cases of coronavirus among its incarcerated population until an unfortunate transfer of men late last month from the California Institution for Men in Chino, the site of the deadliest outbreak in the state prison system.
A Chronicle investigation revealed that 121 men got on buses and were taken to San Quintín so that they would not be tested for the coronavirus for up to a month before the dozens transported them. After the transfer, the number of virus cases among San Quentin residents and staff exploded. By Saturday afternoon, 613 prisoners and more than 80 staff members were confirmed to be infected, according to the state's web tracker.
Because the transfer of men from Chino led to such a mess, many in the San Quintín community (residents, staff and loved ones) were concerned since Friday, when the state said it intended to transfer up to 150 men from San Quentin North Kern State Prison, a facility with 2,200 men incarcerated in the Central Valley.
Marvin Mutch, a former San Quentin inmate and director of defense for the Prisoner Reentry Network, said he received several panic calls from loved ones of San Quentin residents.
Early Saturday morning, the men housed in multiple areas of the prison, including West Block and the gym, were told to collect their belongings and prepare to immediately board a bus, Mutch said.
But just before transportation, the staff learned of the two positive cases. The state department of corrections had said it would only take the men from San Quentin to north Kern if they were all negative first.
Although Mutch and other prisoner advocates were happy to hear that the transfer would not take place, at least not in the next few days, the experience left them shocked.
"I don't know what they think they're doing," Mutch said of the state's department of corrections. "What is happening is remarkable. Is incredible."
Vanessa Nelson-Sloane, whose Life Support Alliance organization advocates for life-long prisoners, said that when she first heard about the transfer of men from San Quentin to North Kern, she told state prison officials that it was a bad idea. Because the previous transfer – of men from Chino to San Quintín – had worked so badly.
"This virus is so prolific and can hardly be tested fast enough to catch it, and that is what concerns us all," said Nelson-Sloane. "We can't even keep him out of the White House. … is widespread. It's everywhere. "
Adamu Chan, a man imprisoned in San Quentin who called a city council organized by restorative justice groups on Saturday, gave a grim description of conditions in the prison. He said he sleeps in an open bedroom with 50 bunk beds on one side and 50 on the other, which means 100 people share bathrooms and common areas.
The bunks are stacked together, Chan said. Those who sleep at the top are inches from the person in the next bunk, those at the bottom are about two feet apart.
Recently, officials presented a diagram with instructions for people in adjacent bunks to alternately position themselves with their heads toward the wall or feet toward the wall, as a way to create more distance.
"Social distancing is not … a reality here," said Chan.
Alameda County Public Defender Brendon Woods, who also spoke at City Hall, called for aggressive measures to reduce the overall prison population, such as the early release of 37,000 people incarcerated who he said would be released within a year anyway. . In addition, he urged Governor Gavin Newsom to release 5,000 inmates 65 and older.
"We understand and share the concern of COVID-19 cases in state jails, and we are implementing multiple strategies to control the spread of the virus," corrections spokeswoman Simas said in the email.
Mutch said: "They should be releasing people into their community. There are a lot of people in prison who don't need to be in a $ 91,000 a year bed. "
Jason Fagone, Rachel Swan, and Megan Cassidy are San Francisco Chronicle staff writers. Email: [email protected], [email protected], m[email protected]