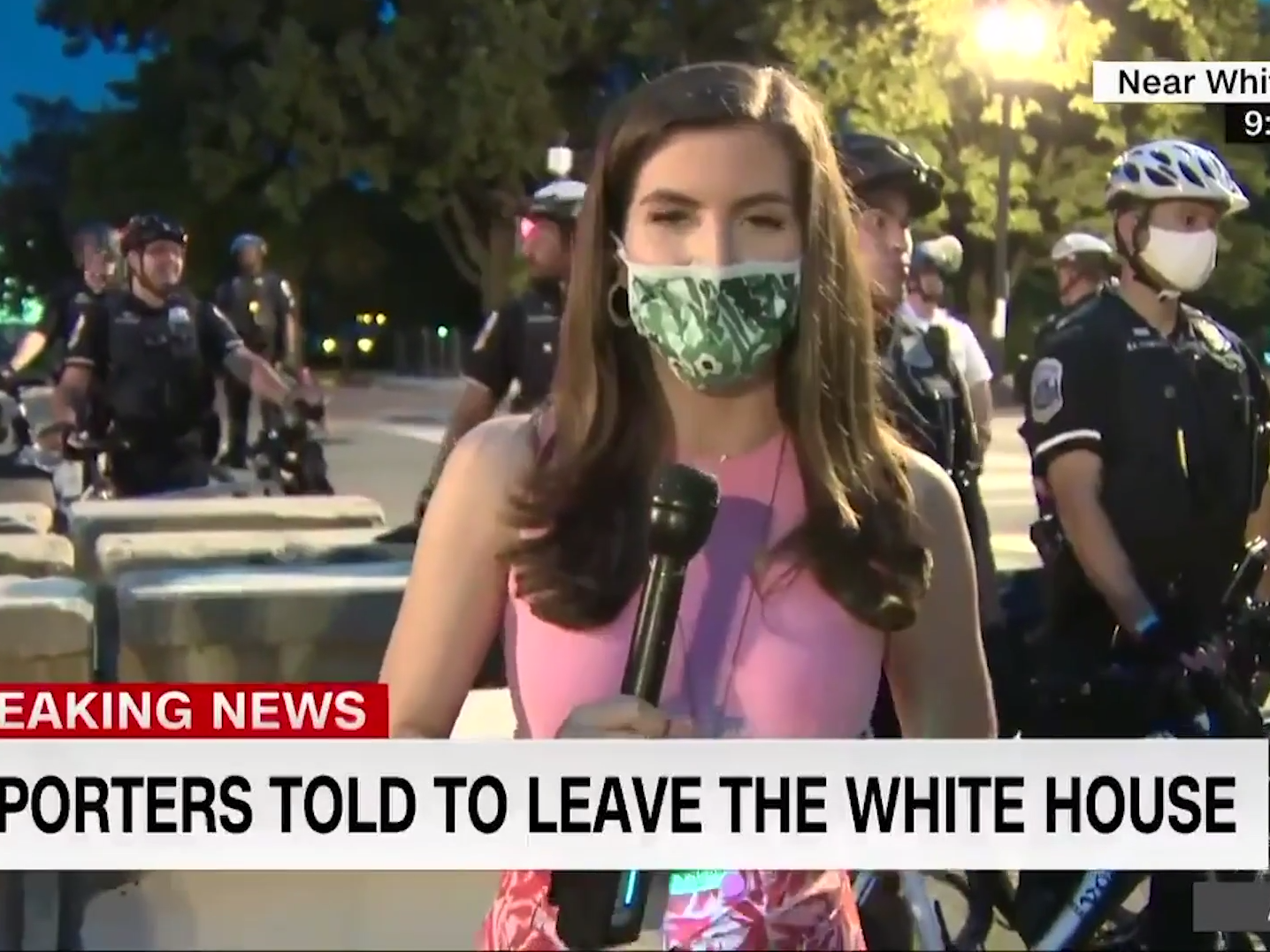 The United States Secret Service (USSS) said the journalists had been "misdirected" when told to leave the White House amid new protests.
In a statement, the USSS said "four members of the media were misdirected" to leave the White House complex on Monday night after police rejected protesters in Lafayette Square.
Protesters attempted to tear down the statue of President Andrew Jackson located outside the White House, when four reporters were told to leave, CNN said.
Download the new Independent Premium app
Share the full story, not just the headlines
"We were inside the White House and Secret Service officers approached reporters and told them we had to leave the White House grounds," said CNN's Kaitlan Collins while on the air.
"It is actually incredibly unusual," he added. "I don't think we've ever been asked to physically leave the White House at a time like that."
According to the USSS statement, journalists were told to use the south side exit on Monday "for their own safety" despite protests abroad.
"On Monday night, in response to the increasingly violent protests in Lafayette Park, four members of the media were misled by the Secret Service to leave the White House grounds," a Secret Service spokesman told CNN. "Members of the press were redirected to exits on the south side of the complex for their own safety."
Despite that, CNN cameras showed protesters arguing with police outside the White House, in what appeared to be an active situation on Monday night.
"There will probably be between 150 and 200 protesters here in front of the White House, if I just count from my position," Collins told CNN host Anderson Cooper.
The Andrew Jackson statue, which was not demolished Monday night, had previously been surrounded by police officers using chemical irritants to push protesters back into Lafayette Square, CNN said.
It comes three weeks after the controversial photo of the church of San Juan in scene of Donald Trump that saw the police clear the protesters of the same square with tear gas so that he could pose with a bible.
The President of the USA USA He used Twitter on Monday night to condemn "the shameful vandalism, in Lafayette Park, of the magnificent statue of Andrew Jackson, in addition to the deterioration of the exterior of the Church of St. John across the street."
He added: "10 years in prison under the Veterans in Memory Preservation Law. Beware!"
.