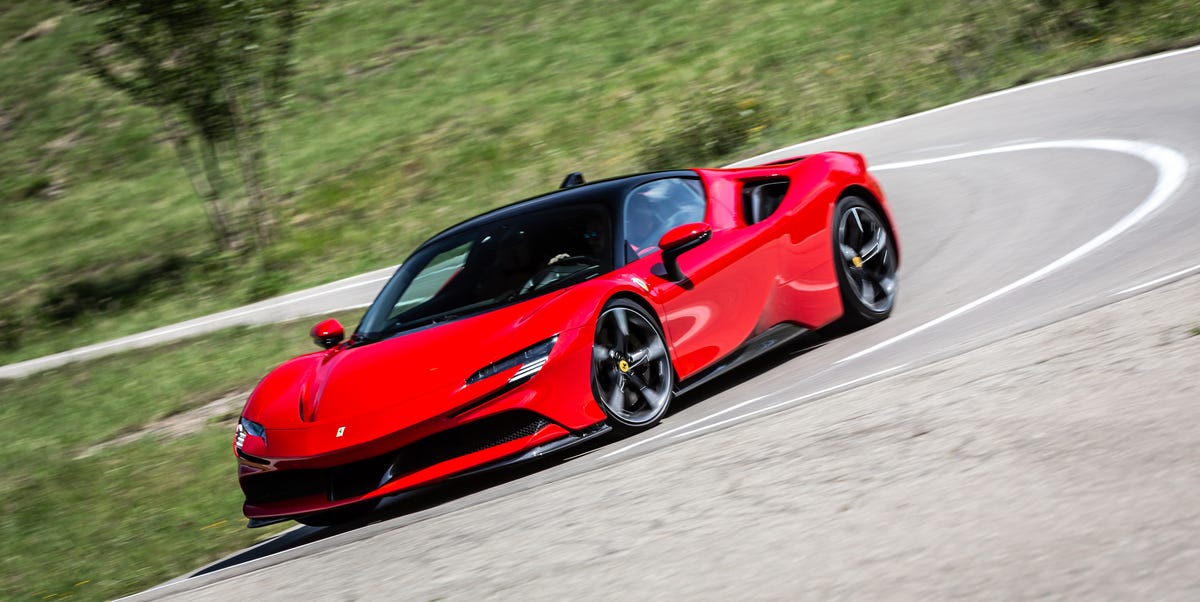 The $ 507,300 SF90 twin turbo and triple engine is practically the slowest Ferrari ever made. Roll it up against the brake on the lights, let it start, and its faint 217 hp isn't even enough to screech the tires on dry pavement. Get not distracted by the vanishing minivans in the distance, manage to keep your nerves up, and stay awake, and eventually hit 62 mph in 9.3 seconds. And yes, those numbers are the correct way.
Looking back through the Road track Files, I can only find two slower Ferraris: an upset era Mondial 8 that took 9.4 seconds to reach 60 mph in our 1981 test, and a 130 hp 166MM, built 33 years earlier, which got there in ten.
At this point, I'm probably a strand of carbon fiber away from being excommunicated by Ferrari's communications team, so I should point out to those who haven't guessed it yet, that the 9.3 in question is achieved only in the mode SF electric eDrive.
Add the other SF90 power unit to the mix and it's a different story. A revised version of the twin-turbo F8 Tribute V8 with new heads, a 100cc to 4.0-liter span and short intake runners generates 769 hp and 590 lb-ft, for a grand total of 986 hp, or a nice round 1000 ponies metric.
The LaFerrari limited edition was similarly assembled, but this is not a replacement for that car. The SF90, named to commemorate the 90sth Anniversary of the Scuderia Ferrari racing team, it is a regular-produced Ferrari, built on a new chassis that is still mostly aluminum rather than carbon fiber. It even looks pretty conventional. There are no swing doors, and aside from a new steering wheel and sleek package of curved TFT digital instruments, it doesn't feel much different than an F8 or 488 GTB inside.
However, you can get numbers that Ferrari never has on the road: zero to 62 mph in 2.5 seconds and 0-124 mph (200 km / h) in 6.7. LaFerrari needed closer to three and seven. Choose the SF90's optional Assetto Fiorano package, which shaves 66 lbs and includes carbon door panels, multi-spring dampers, and titanium exhaust and springs (for just $ 69,184), and the SF90 will even match the full carbon LaFerrari lap time much lighter on the firm's local circuit, Fiorano.
Part of the secret to those numbers is the SF90's all-wheel drive system. While the gasoline engine and one of the three electric motors drive the rear wheels through the new eight-speed dual-clutch transmission, the other two engines are mounted on the front axle, one for each wheel to allow vectorization of the torque, drawing current from a battery mounted in the rear firewall.
Pressing the start button just inside the famous Ferrari factory doors, there is no sign of the V-8. The SF90 defaults to the new hybrid mode of the e-manettino at startup, which means turning this Ferrari on and the only music coming out of the tailpipes is the soundless sound of John Cage 4'33 ".Inside the car there is a short, faint hum, like someone trying to tune into a radio from the 1950s, and that's it.
As you exit the gates into Maranello traffic, there are still no signs of the gas engine. There's no artificial fauxrrari noise, either, thankfully, just a mysterious electric car moan. So it seems quite fitting that the V-8's intake racers have such a low profile that now the engine is not visible in the rearview mirror, just an empty engine compartment.
While this is not Ferrari's first hybrid, the LaFerrari that took that honor was not intended to be operated for any length of time solely under electric power, although this feature was made available to owners upon request.
In contrast, EV operation is a central feature of the SF90. Its 7.9 kWh battery is strong enough to deliver 15.5 nearly silent miles in eDrive mode and can be charged in two hours.
Even in Hybrid mode, the default setting, the SF90 frequently shuts down the gasoline engine in normal driving. The way the powertrain effortlessly combines EV and gas power, dropping the V-8 and then putting it back into operation with no hassle or fanfare, it's truly impressive. It's the way you would really appreciate if you really owned the car, wanted to cover a few real miles, or even used it to travel through traffic jams.
But it definitely doesn't offer the traditional driving experience that Ferrari buyers expect. For that, you have to go into performance mode, or even more extreme rating mode, which uses the gasoline engine and regenerative braking to fully charge the battery after a few miles of driving. We try not to obsess over infinite details about car driving modes, but in the case of the SF90, they are important. Because it is only in the two main modes that the gasoline engine runs full time.
Now It feels like a Ferrari. Now you can feel how the instant torque of electric motors almost completely reduces the wait for twin blowers to start. Throttle response isn't sharp enough V-12, but we've driven many naturally aspirated cars that feel looser.
If that's impressive, the feel of the brake pedal, often a true passion for hybrids, is even better. The journey is short, consistent and reassuring. Nice job, because this thing has so much more performance than anyone could possibly need on the go.
We are on some tight turns that go up into the hills south of the factory. There is hardly any space between shifts to actually open the taps, but there are plenty of opportunities to experience the almost total lack of understeer or oversteer. It's good. Maybe too good?
I'm not sure the feeling of torque working its way through the front axle as you go up to the power coming out of the tightest corners. It doesn't corrupt the steering exactly, maybe the way the mid-engined Ferraris used to drive is connected to my brain, but there seems to be some purity lost from the need to provide better traction.
Back at the Ferrari Fiorano circuit, my opinion has changed. At track speeds, where you're always pushing and crossing limits rather than suddenly bumping into them, the all-wheel-drive system feels more fluid, the overall feel more like a rear-wheel drive Ferrari.
But no 500-hp Ferrari felt this easy to drive, let alone one with twice the horsepower, or a remarkably heavy 3461-lb curb weight (and that's dry). Stick to Career mode and everything will stay neat, tidy, and predictable, letting you focus on the precision of the front end and the pull of those engines. But you really can't see witchcraft.
No, it's a lot more fun with the fully disconnected traction control, where you can spin around in a gasp of acceleration and feel the car turn, preparing for the next corner. Or keep it tidy on the road, but turn the accelerator to the middle of the corner of the fourth gear and come out with a quarter turn of the opposite lock. Did we mention that this thing has 1000 hp?
That is not bombastic. Anyone with a little interest in cars and driving could get on this car and do the same because this car lives to make you look like a hero. The SF90's chassis is so smart that if Ferrari had released it 1,000 years ago, people would be burning them at the stake and drowning them in duck ponds.
Maybe some diehard fans still want to do that. The SF90 could easily have appeared as a hugely confused car. And we have no doubt that some won't like all-wheel drive, hybrid steering, or the fact that this car weighs two thinner passengers more than an F8 because of that.
If all you want is a traditional supercar experience from the moment you press the start button, the simpler and slower F8 Tribute may serve you better, but is lighter, cheaper, and possibly easier.
But soon we will not have that option. Cars like the SF90 are the supercar's medium-term future, a way to keep the combustion engine flame burning until they finally go out by switching to all-electric power.
Fortunately, there is more to the SF90 than that. It is the fastest mid-engine road Ferrari, and it is also the most exploitable. This thing sails like a Japanese coupe, accelerates like a Bugatti, spins Fiorano as fast as a LaFerrari, yet any driver with a nose for talent could jump and throw it like an entry-level Cayman.
There's not much that the SF90 can't do, except carry enough luggage to make the most of its excellent travel potential (electric motors at the front decimate boot space). Oh, and smoking a leaf in the lights in an EV showdown.
This content is created and maintained by a third party, and imported into this page to help users provide their email addresses. You may be able to find more information about this and similar content on piano.io
This comment section is created and maintained by a third party, and imported into this page. You may be able to find more information on their website.