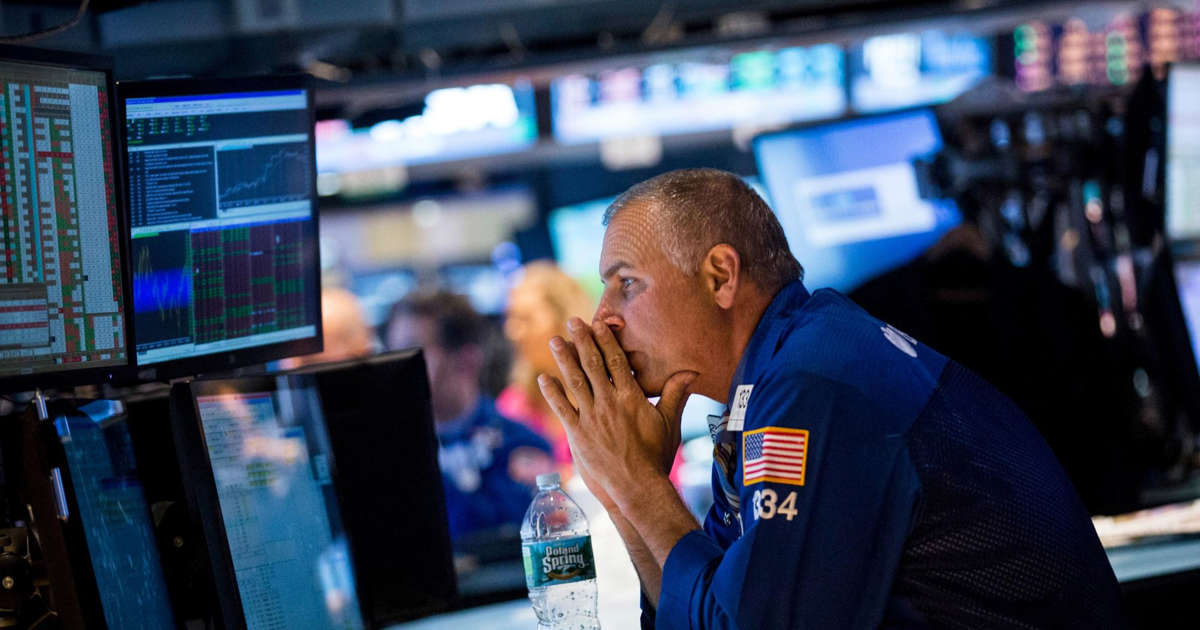 The shares ended a volatile session on Thursday with solid gains as investors applauded the reversals of regulation for big banks.
Loading error
The Dow closed 299 points, or about 1.2%, at 25,745. The S&P 500 ended the day 1.1% at 3,083, while the Nasdaq also advanced 1.1%.
The Federal Deposit Insurance Commission said it will make it easier for banks to make large investments in funds such as venture capital funds. Additionally, banks will not have to set aside cash for derivatives traders between different affiliates of the same company, which could free up more capital.
"When we think of a recession of the magnitude we have, there will be some credit write-offs by banks," said Art Hogan, market strategist at National Securities. "The fact that they are going to have more working capital makes the markets breathe with relief."
Bank of America, JPMorgan Chase, Citigroup and Wells Fargo rose more than 3%. Goldman Sachs also gained 4.6% while Morgan Stanley advanced 3.9%. Shares of major banks rose to their daily highs in the last hour of trading as investors expected the Federal Reserve to release stress test results for major banks. Those results will be released after closing.
Stocks fell earlier in the day as investors continued to worry about the increasing number of coronavirus cases.
Florida on Thursday reported 5,004 additional cases of coronavirus. That's slightly below the state's single-day record of 5,508, which was reported Wednesday. In Arizona, cases increased by 5.1%, beating the state's seven-day average of 2.3%. Meanwhile, Texas Governor Greg Abbott said the state would pause its reopening plans given the recent increase in cases and hospitalizations.
This recent increase comes after the US suffers its largest daily increase in coronavirus cases. More than 45,000 new coronavirus cases were confirmed Wednesday, a record that surpassed the previous peak of April 26 by more than 9,000 cases, according to an NBC News count.
Wall Street was emerging from its worst one-day performance since June 11, with the Dow, S&P 500 and Nasdaq falling more than 2% on Wednesday.
"I think we will see a second wave of cases," said Komal Sri-Kumar, president of Sri-Kumar Global Strategies. "That is my biggest concern about the market."
"At some point, you have to go back to the fundamentals and if the fundamentals have not improved, all of the stimulus-related increase in share prices must be returned," Kumar said.
Unemployment claim data
Another 1.48 million Americans applied for unemployment benefits last week, the Labor Department said. Economists surveyed by Dow Jones expected a print of 1.35 million. This is the second week in a row that the U.S. unemployment claims data was worse than expected. However, continued claims fell by more than 700,000 last week.
"No matter which way you look, more than a million unemployed is a very bad thing," said Mike Loewengart, director of investment strategy at E-Trade. "It will take some time to get rid of the structural damage that COVID has caused worldwide."
"While it is certainly uncomfortable, the everyday investor should be used to the volatility of the market right now," said Loewengart.