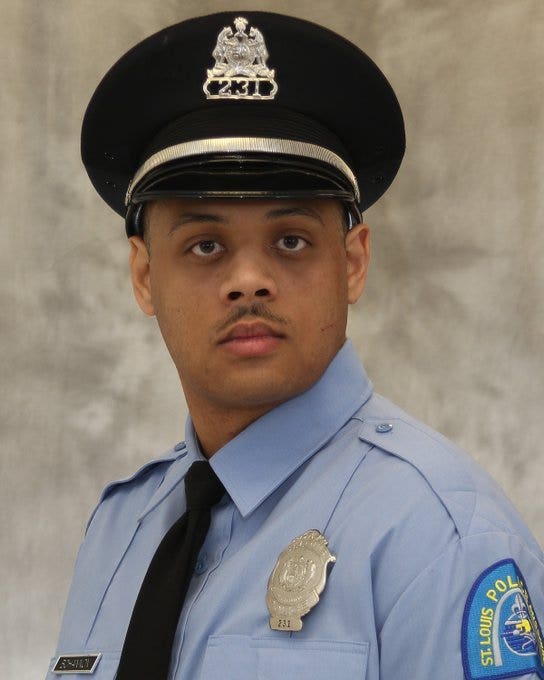 S.T. Lewis, Mo. – A St. Louis police officer was shot Sunday in the head while responding to a shooting south of the city, officials said.
29, Officer Tamris L. Bohannon was in the department for 3/2 years.
Another officer who was shot in the leg was treated in the South Grand neighborhood near Tower Grove Park after the shooting around 6 p.m., St. Louis Police Department spokeswoman Michelle Woodling said.
The shooting of JF-Duty ST is equipped with 2 juveniles. Lewis Officer
Woodling said the second officer is 30 years old and has been under pressure for six months. The 43-year-old suspect was taken into custody Sunday morning, Woodling said.
Mayor Lydia Craves said in a statement Sunday night that she was "sorry" for Bohannon's death. "I have the privilege of spending some time with her family in these extraordinarily challenging circumstances. They are wonderful people and for over three years he has been selfless and proud of the way he has served our health and the way he has served his community with pride and dignity. "
"This is a horrible reminder of the dangers that our brave men and women willingly face every day to keep us safe. This is a terrible, stupid tragedy."
The gunman ordered a family outside their home at gunpoint and barricaded himself from inside for about 12 hours, said John Head, chief of the St. Louis Metropolitan Police Department.
Officers were searching for another victim of the shooting while Bolan was shot in the head and another officer in the leg.
Heads said officers were "trying to do their job, they're suffering from gunfire." He added that the incidents were part of an "increase in violence" this summer. He told residents to pray for the authorities.
Head said eight of his officers have been shot in the line of duty since June 1.
"We're trying very hard to cope with the summer, and it's very difficult. It's very difficult," he said.
Click here to get the Fox News app
When the man was barricaded from the inside, officers armed with rifles and a SWAT team gathered outside. Police closed the surrounding streets and warned residents to stay inside. Police used a bullhorn and fired tear gas at the suspect, but did not fire, the department said.
Morning: 30. The man was taken into custody at around 0 p.m. Police have not released any details on how he completed his detention.
Homeowners Mimi and Steve Hague said they were trying to call 911 for help from another man who was shot when the gunman just went to their home.
"I saw that then he had a gun," Steve Hague told the St. Louis Post-Dispatch. "He was standing there with his hand in his and he just says to Mimi: 'Ma'am you need to call me.'
The Hague escaped through the back door and was unbearable in their encounter with the gunman. Police were unable to locate the man, apparently shot and wounded.
Crewson Tweeted Grief towards him following the incident.
"Please help our injured officers and 3 SLMPD. No. Keep all men and women in your thoughts and prayers as this situation continues to evolve. "Even his friends, family and loved ones," Craves said.
Circuit attorney Kim Gardner, who has a sporadic relationship with city police, also issued a statement of support.
Gardner told KDSK-TV, "We extend our deepest concern and grief over today's tragic events. I would like to extend my prayers for the injured SLMPD officers and their families."