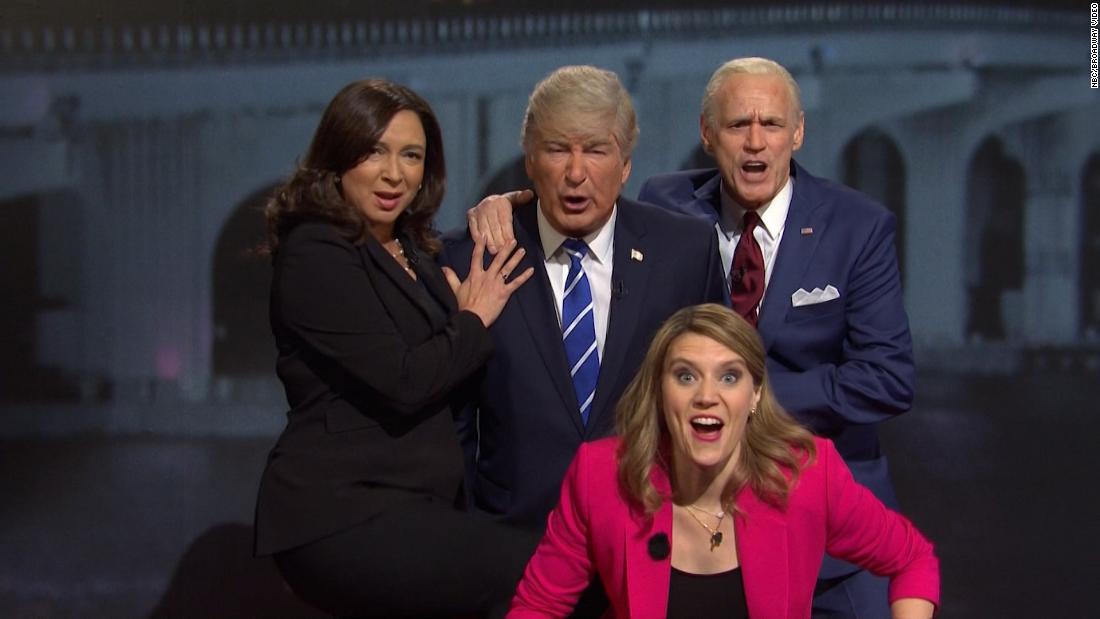 "A town hall was a thoughtful and rigorous discussion of issues coming up in our country," the show's announcer said at the start of the show. "Another featured President Trump."
The NBC Variety show then took viewers to Biden's townhall on ABC.
"I gave each audience member a glass of warm milk and a blanket," Biden said, played by Jim Carey. "Now, who's ready to have fun with some facts and figures ?!"
Then "SNL." Turned to Trump's townhall on NBC.
"Good evening, America. I'm a surprisingly bad ass Savannah Guthrie, and if you're angry with NBC for doing this townhall, let me get a few questions and I think you're thankful," played by Guthrie. Kate McKinnon, said.
Alec Baldwin's Trump then took the stage and asked him about conspiracy theories to tweet.
"I didn't tweet it. It was a retweet, which is really short for a smart tweet."
"Okay, but you just can't do things like that," McKinson's Guthrie replied. "You're not just someone's crazy uncle."
"Really? Because this conversation is what we're thankful for right now, it's a preview of Thanksgiving dinner," Baldwin's Trump turned back. "So mad uncles, stand back and stand up."
"SNL." Carey then turned back to Biden Town Hall.
"And that brings us back to 1939, the year I went to the World's Fair and met Mickey Mouse," Carrie Biden could be heard answering a question.
The show has seemed a bit unfocused in recent episodes.
One second saw Baldwin's Trump and McKinnon's Guthrie fight each other like professional wrestlers, the other featured Maya Rudolph's Kamala Harris, and then Carrie's biden turned into Mr. Rogers and painter Bob Ross.
"Like America, every tree has its own personality," said Bory Ross while painting.
He then closed his town hall saying he would never tweet because he did not know how.
In another town hall, Baldwin's Trump wrapped up his talk with McKinnon's Guthrie.
"In conclusion, there is only one question that matters," said Trump of Baldwin. "Just ask yourself America, aren't you better than four years ago?"
The cartoon map of the country answered loudly, "No!"
"Okay, just try to keep me alive," Baldwin's Trump said before speaking the show's signature catch line, "Live … from New York! It's Saturday night."
.