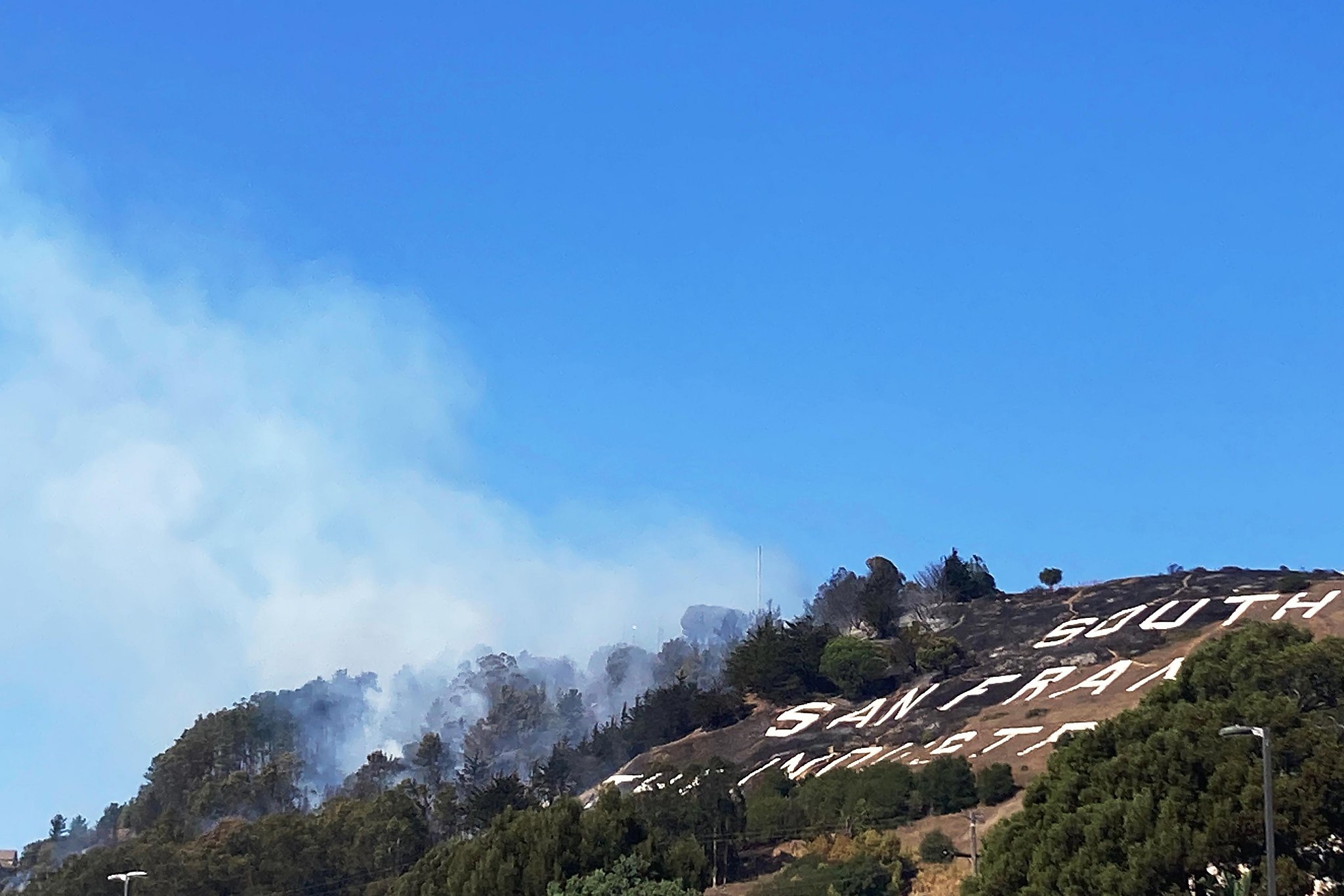 On Friday afternoon, two teenagers confessed to starting a plant fire in the Sine Hill area of ​​southern San Francisco, prompting evacuation and questioning of displaced residents for hours on Friday afternoon.
South San Francisco police said a "vigilante resident in the neighborhood" saw the two teenage boys exiting the area shortly after the fire started early Friday afternoon. Police said they identified and questioned two local teenagers, ages 14 and 16, as part of their "follow-up investigation."
The pair later admitted in a police department investigation that they were "responsible for starting the fire," police said. Both teens were released for family members while authorities continue to investigate Blaze, police said.
The police department's investigation is expected to be handed over to the South San Francisco Fire Marshal, who will "conduct a thorough investigation and provide its decision in due course."
All evacuation orders around the four-alarm plant were lifted, fire officials said.
The blaze, which began south of historic Fire Hill, ended just after 2:15 p.m., fire officials said. . About three hours later the evacuation order was lifted.
No injuries were reported and no structures were destroyed, police said. South San Francisco police officials said the injuries and lack of destruction were "due to the extraordinary efforts of all agencies involved."
Images captured by wildfire cameras and social media posts showed smoke and flames heading towards a 1920s-era hillside sign, a historic landmark in the eyes of South San Francisco. The sign was placed on the National Register of Historic Places in 1996.
Mandatory evacuations were put in place for Carnelian Road, Sonja Road, Mountain Road, Reserve Court and Wyoming Terrain, according to the South San Francisco Fire Department. A temporary evacuation center was built at 33 Arrow Drive.
The fire broke out amid a red flag warning issued by the National Weather Service, which signaled a high risk of fire from wind, high temperatures and low humidity until 8 a.m. Saturday.
Cal Cal Fire Units helped respond to the South San Francisco Fire Department's blaze, which was called the Diamond Fire. Helicopters and aerial firefighting tankers flew over Cal Fire as part of the firefighting effort, police said.
Hundreds of smoke was visible from a plum space, according to a satellite image tweeted by the National Weather Service's two area office fees. A gentle breeze was blowing towards the Pacific Ocean, according to the NWS, and according to the NWS.
Michael Williams and Lauren Hernandez are San Francisco Chronicle staff writers. Email: Michael [email protected] Lauren.shernidesઝsfchronicle.com Twitter: michaeldamianw YByLHernandez