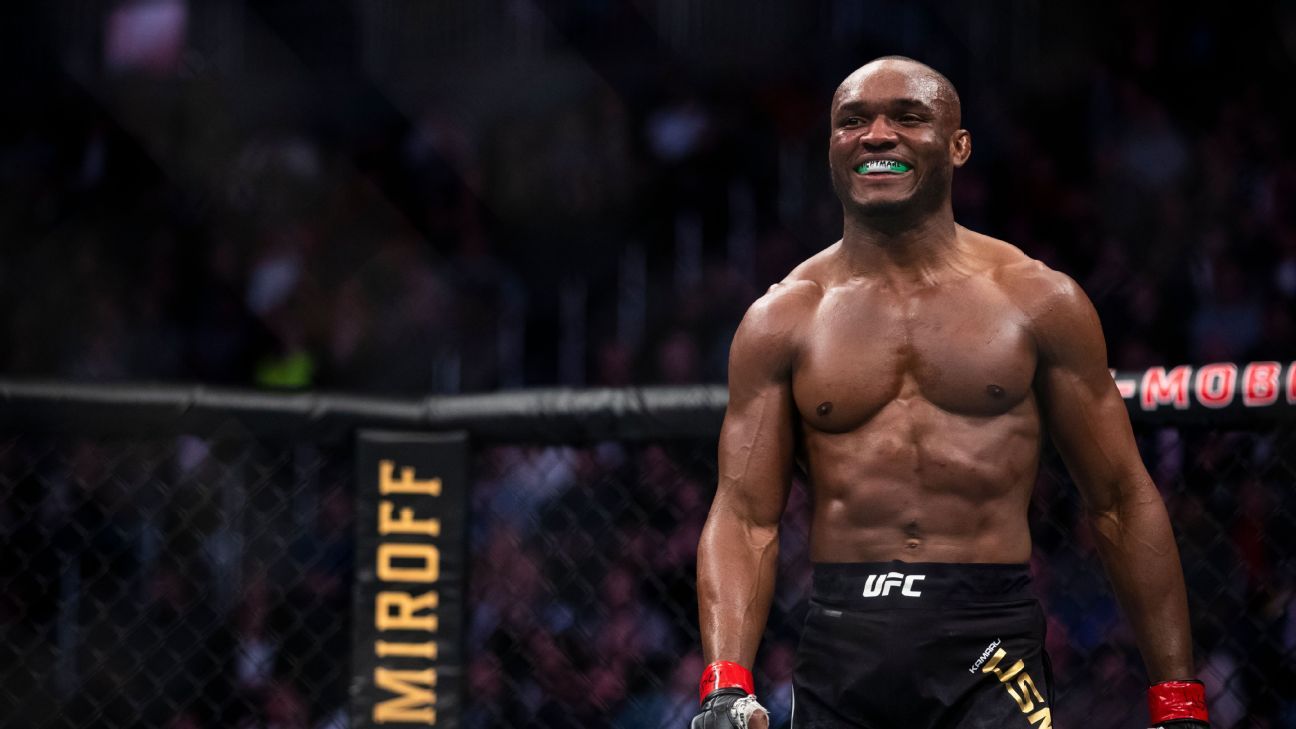 UFC welterweight champion Kamaru Usman has made significant changes to his camp ahead of an upcoming title defense against teammate Gilbert Burns at UFC 251 on July 11.
In anticipation of UFC 251 on Yas Island, Abu Dhabi, Usman (16-1) has moved his camp to Denver, under the command of coach Trevor Wittman. The defending champion told ESPN that his corner will consist of Wittman, who trains UFC lightweight Justin Gaethje and strawweight Rose Namajunas, Jorge Santiago, his brother Mohammed and possibly Gaethje.
Although Usman has worked with various coaches over the years to come up with different looks, this will be the first time in his eight-year career that he actually has a camp outside of Florida. He was a member of the Blackzilians team now missing in Boca Raton, Florida, since 2012, and has trained with striking coach Henri Hooft for most of his career. Usman said he left the team on very good terms.
"Florida was the base for a long time, but you grow from there," Usman told ESPN. "We always had a lot of guys, some of the best training partners and great coaches."
"But I wanted a little more specific attention at this point in my career: someone who could say, 'You're going to come right now and work on this particular skill.'" It is very difficult to do it when there are between 40 and 50 men in the room who also need to attract attention. "
Burns (19-3) has stayed with the Sanford MMA team in Florida. Before Usman's recent departure, the two were combat partners for years. Usman has even been in Burns' corner in multiple fights.
Burns told ESPN that his camp will be pretty much the same, despite Usman's absence, although Hooft has withdrawn from combat entirely.
"Our head coach Henri Hooft came out," Burns told ESPN's Phil Murphy. "He said, 'I don't want to go in any way. I don't want to choose a side. You train. I'll be here in the gym. If you want to train here, we can train. But I'm not going to the fight.
"For me, it doesn't change much. It's kind of weird fighting Kamaru. I really like the guy a lot. We've been training together since 2012 or 2013, so we've spent a lot of time together." "
When asked if Usman believes he is taking a risk by changing camp to face an opponent and a team that know him so well, the champion didn't seem concerned.
"I think it would have changed things eventually anyway," Usman said. "We had a lot of welterweights in that gym. At some point, when you train with these guys on a daily basis and you are the world champion, these guys know you in and out and if they get better of you one day, they are licking their chops thinking it's your time. A little bit of separation from that is good. Maintains that element of surprise, because these guys feel like they know you.
"One thing I firmly believe is that it is my job. You can be with a great coach, but if you don't try hard, that coach won't help you win. That coach won't get there and fight for you. I know I put the job in."
.