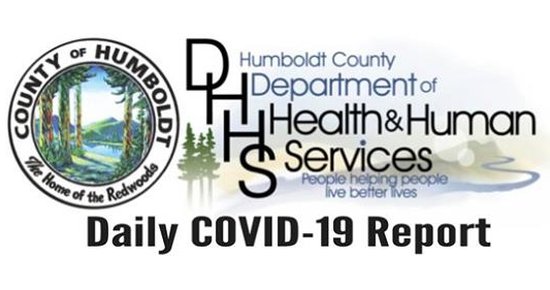 Humboldt County Joint Information Center Press Release:
Two additional cases of COVID-19 were reported today, bringing the total number of Humboldt County residents who have tested positive for the virus to 112.

The transmission medium for these new cases is under investigation. Two previously reported cases were determined to have been acquired through travel to an area outside of Humboldt County. Dr. Teresa Frankovich, County Health Officer, noted that we are seeing an increase in transmission from the local community as we continue to see the impact of travel.

"There is an inherent risk in traveling both because many areas are seeing more circulating viruses than we do locally and because our behavior may be different when we travel." Residents should continue to limit movement in and out of the county as much as possible, "said Dr. Frankovich. "If you must travel, be sure to practice physical distancing in public spaces, avoid public gatherings, use face covers, and regularly wash and disinfect your hands. Taking these precautions can reduce, but not eliminate, the overall risk of exposure to COVID-19. "

For the latest information on COVID-19, visit cdc.gov or cdph.ca.gov. Local information is available at humboldtgov.org or during business hours by contacting [email protected] or calling 707-441-5000.

Follow us on Facebook: @ HumCoCOVID19,
Instagram: @ HumCoCOVID19,
Twitter: @ HumCoCOVID19, and
Humboldt's Health Alert: humboldtgov.org/HumboldtHealthAlert

###
= historical data. All data from the Humboldt County Joint Information Center.