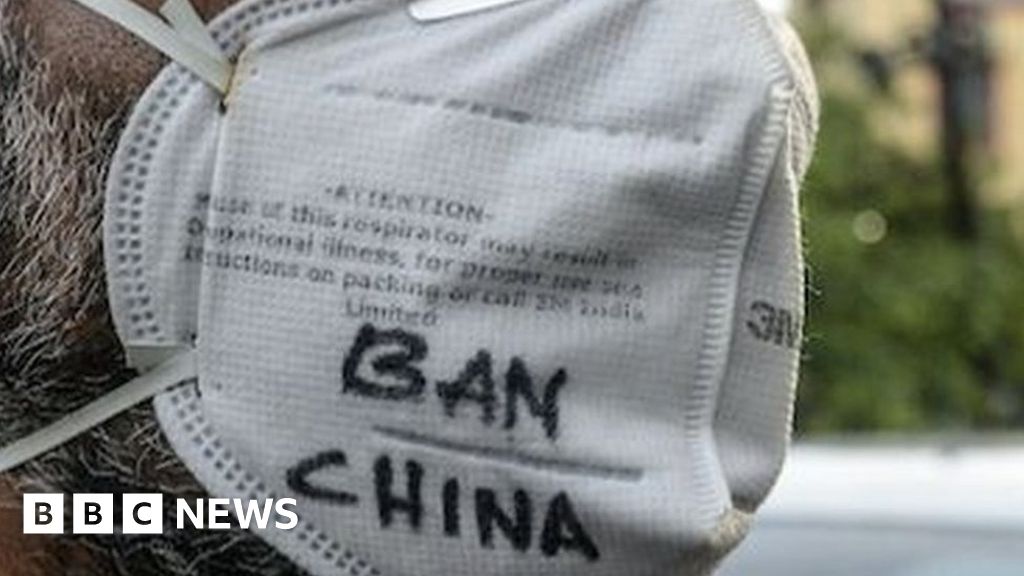 Sentiment against China has increased in India since last week's fatal border clash between the two nuclear-armed neighbors.
Twenty Indian soldiers were killed in fighting at a disputed border site in the Himalayan Valley in Galwan, sparking a violent and theatrical reaction on the streets of India.
People in the city of Ahmedabad in western India threw Chinese televisions onto their balconies, while merchants in the capital Delhi protested by burning Chinese products.
A central minister called for a boycott of restaurants that sell "Chinese food," an indigenous version of Chinese cuisine that is very popular; an opposition leader was seen climbing over a JCB machine to obscure a billboard from Chinese smartphone maker Oppo; A group of eager protesters went viral after burning an effigy of North Korean leader Kim Jong-un, mistaking him for Chinese President Xi Jinping.
The Indian government has not explicitly announced a boycott, but states and public sector companies have reportedly been asked to desist from issuing new contracts to Chinese companies. The railways have reportedly canceled a signage project that was given to a Chinese company in 2016. And the government has also reportedly asked e-commerce companies to show the country of origin of products that Do you sell.
Bilateral trade between countries, which has already dropped 15% since fiscal year 2018, could take a fresh hit as India considers additional tariffs and anti-dumping duties on Chinese imports.
But, experts say, it's easier said than done by turning that boycott rhetoric into reality.
What is the alternative to China?
On the one hand, China is India's second largest trading partner after the United States. And two, it accounts for almost 12% of India's imports in sectors such as chemicals, automotive components, consumer electronics and pharmaceuticals.
"China meets at least 70% of the needs of India's drug intermediaries," Sudarshan Jain, president of the Indian Pharmaceutical Alliance, told the BBC.
Although India has announced a new policy to become more self-sufficient on drugs, it says it will take time.
India's burgeoning smartphone sector also relies heavily on cheap Chinese phones made by Oppo, Xaomi, and others with most of the local market.
Most consumer electronics manufacturers say they will be paralyzed if they cannot import crucial intermediate goods from China.
"We are not concerned with finished products. But most players around the world import key components like compressors from China, "says B Thiagrajan, managing director of Blue Star Limited, an Indian manufacturer of air conditioners, air purifiers and water coolers.
Thiagrajan adds that it will take a long time to establish local supply chains and that there are few alternatives for certain types of imports.
Chinese money funds Indian unicorns
India and China have also become increasingly integrated in recent years. Chinese money, for example, has penetrated India's tech sector, with companies like Alibaba and Tencent strategically injecting billions of dollars into Indian startups like Zomato, Paytm, Big Basket and Ola. This has led Chinese giants to "integrate" deeply into India's socio-economic and technological ecosystem, according to Gateway House, a group of experts based in Mumbai.
"There have been more than 90 Chinese investments in Indian startups, most of them made in the past five years. Eighteen out of 30 Indian unicorns [tech startups valued at over $1bn] have a Chinese investor, "says Amit Bhandari, an analyst at Gateway.
At $ 6.2 billion, Chinese direct investment in India seems relatively small. But, says Bhandari, restricting Alibaba's tastes of creating monopolies in the Indian market will be crucial given the "huge impact" of these investments.
To this end, India has already amended its FDI (Foreign Direct Investment) rules to avoid hostile acquisitions of Indian companies.
While China has accused India of violating WTO principles, the ice is unlikely in current circumstances "as there is no way to enforce any decision if a conflict between countries is cited as a reason to justify the violations, "Zulfiquar Memon, managing partner at MZM Legal, said in an email interview.
This gives India room to maneuver to reduce its import dependency and pay attention to the growing requests for self-sufficiency. India's huge trade deficit of nearly $ 50 billion with China has long been a hot spot between the two countries, and the current showdown provides a boost for India to narrow the gap.
Is self-sufficiency the answer?
India's domestic manufacturing sector can substitute for up to 25% of China's total imports, according to new findings from Acuité, a rating agency. This would lead to a reduced import bill of more than $ 8 billion in a single year.
Handicrafts, for example, is a category in which India imported $ 431 million worth of goods from China in financial year 2020 without significant reciprocal exports.
But Gateway House's Mr. Bhandari says boycotting popular Chinese apps like TikTok could be more effective than boycotting physical assets in value-added terms because there are multiple alternatives.
But from India's point of view, none of this is likely to unfold without serious consequences for the economy, especially during a severe recession. China, on the other hand, is less concerned as India accounts for only 3% of its exports.
So far, Beijing has been restrained in its reaction to the mounting backlash in India.
But a recent opinion piece in the Global Times newspaper warned that "China's restraint is not weak."
He says that "it would be extremely dangerous for India to allow anti-China groups to raise public opinion, thereby increasing tensions," adding that the focus should be on "economic recovery."