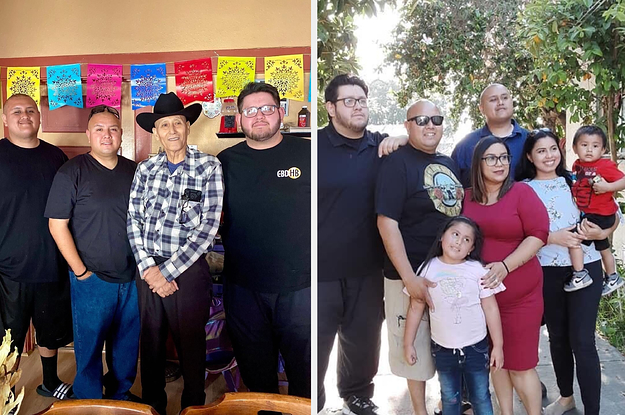 Richard Garay, who lost his father to COVID-19 a day before Father's Day, said he wanted to warn people not to let their guard down during the pandemic.
BuzzFeed News has reporters from around the world giving you trustworthy stories about the impact of the coronavirus. To help keep this news free, become a member.
---
Richard Garay will never forget the last words he said to his father, Vidal Garay García, when the two were quarantined in a room at their South Los Angeles home after they both contracted the coronavirus.
That morning in early June, Garay woke up struggling to breathe and thought he was going to die of COVID-19, the disease caused by the virus, he told BuzzFeed News on Saturday.
His father, who was battling COVID-19 along with an underlying health condition, summoned the energy to sit down and ask Garay in Spanish: "Son, are you okay?"
"Dad, I don't think I can make it," Garay recalled when he told his father before being hospitalized.
That was the last time Garay spoke to his father before Vidal Garay died of COVID-19 complications on June 20, a day before Father's Day. He had just turned 60 in May.
The coronavirus not only led to the death of his father, but also infected "approximately 28 members" of Garay's family, including his mother, wife and two young children, he said. Most of them have recovered or are recovering from the virus, including himself.
The 27-year-old now warns people to take coronavirus seriously.
"My dad was my best friend," said Garay. "I don't want my father's death to be in vain. I don't want people to experience the heartbreak we are going through."
Garay said he wanted people to understand that wearing the right protective gear can save lives and urged others not to feel comfortable and to let their guard down during the pandemic.
"Nobody likes to wear a mask. I don't like to wear a mask because I feel like I can't breathe," Garay said. "But if it's going to save someone's life, I'm going to wear the damn mask."
Garay believes her father was the first in the family to contract the virus during a routine hospital visit for blood transfusions that Vidal Garay required every two weeks as a result of having sideroblastic anemia and myelodysplastic syndrome. After one of those transfusions in early June, doctors told his father that he had tested positive for COVID-19.
Garay said that when his father started showing symptoms of COVID-19, the family did not know it could be due to the coronavirus because his father "always felt sick."
He believes his father extended it to everyone who lived with him, including Garay, his mother, his wife, Garay's two children, ages 5 and 2, and Garay's younger brother.
Garay started feeling ill towards the end of May and isolated himself at home on May 30 after having a high fever, body aches and headache. He was tested for the virus on June 1, and both he and his father said they had the coronavirus on June 4.
The two men isolated themselves together in a room in the family home. But when Garay's condition worsened, he had to be hospitalized. A few days later, Garay was told that his father had also been hospitalized after his condition worsened. While in the hospital, Garay learned that several other family members were ill and were being tested for COVID-19.
According to Garay, the disease may have spread to members of his extended family during two separate interactions with two family members living in different houses.
Garay said his uncle had visited his home in mid-May to collect garden tools from his father and that he spent 5 to 10 minutes there before returning to his own home, where he likely passed the disease on to members of his own family. .
Garay's aunt, who is her mother's caregiver and who interacted with her father at home, also likely transmitted the virus to her immediate family at home.
Garay said news reports that the extended family may have contracted the virus in May during his father's 60th birthday party were inaccurate because only members of his immediate family who lived in the same house were at the party. There was also a mariachi band at the party, but they were socially estranged, Garay said.
As of June 27, Los Angeles County has had more than 95,000 coronavirus cases and more than 3,000 deaths.
Garay was at home recovering from the coronavirus when his father died. The family was allowed to see him for 10 minutes through a window in the hospital.
Vidal Garay was a kind and hard-working man, who raised his children "to love our country and love our neighbors," said his son.
Garay said his father last saw him unable to breathe and that he never had a chance to see his son recover from the deadly virus.
"I really wanted to tell my father that I love him and that he was fine," Garay said.