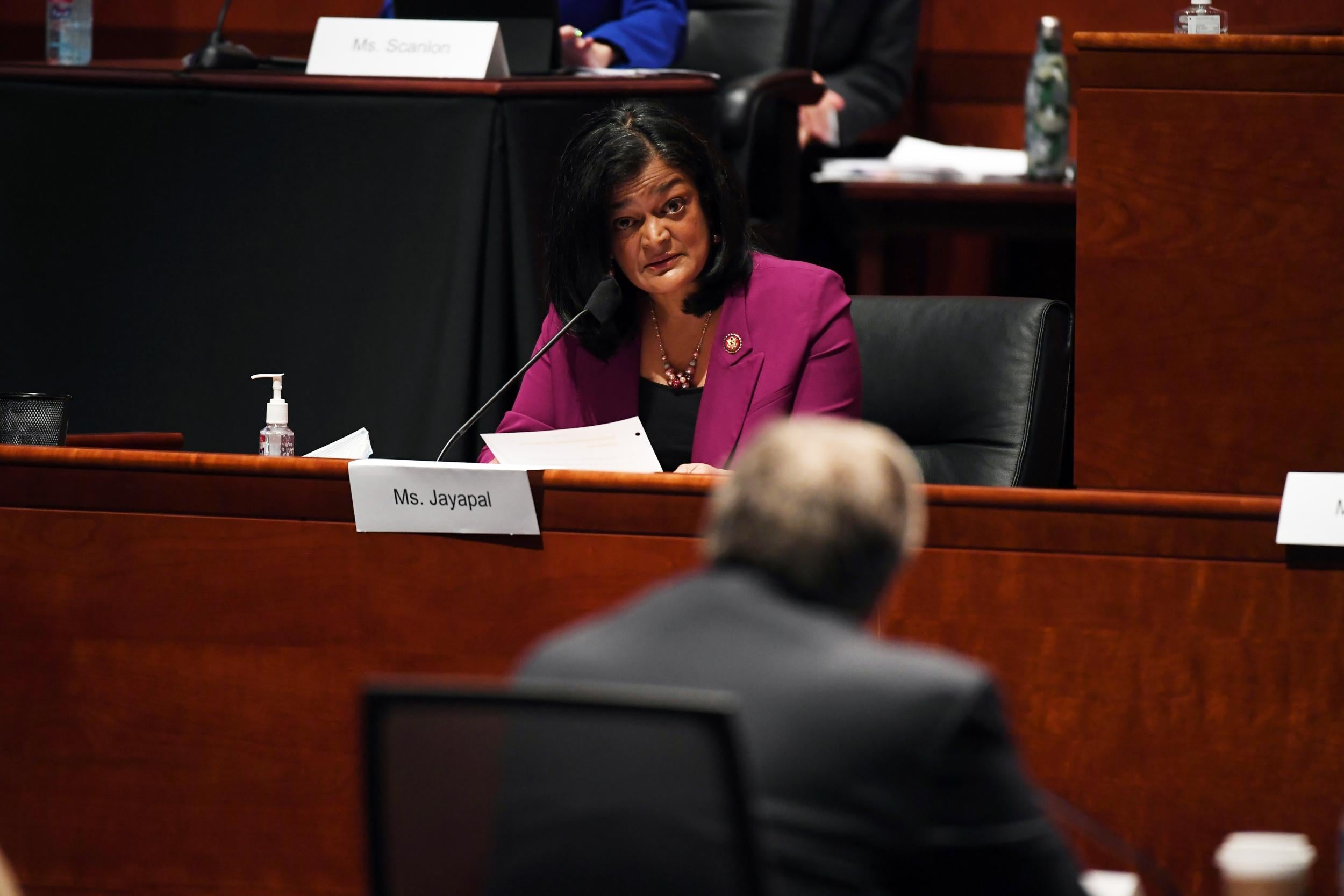 Democratic Congresswoman Pramila Jayapal demanded that Attorney General William Barr respond to why the administration deployed federal officials to attack the Black Lives Matter protests, but did not respond to threats from the right in protests of state-level quarantine measures during the pandemic. of coronavirus.
During a heated exchange in the House Judiciary Committee on Tuesday, he accused the attorney general of an uneven and politically motivated response motivated by Donald Trump, who called on his supporters to "liberate" the states from the Democratic governors at the peak. of the public health crisis. .
"When white men with swastikas assault a government building with firearms, there is no need for the president to 'activate' it, because they are making the president's personal agenda," he said. "But when blacks and people of color protest against police brutality, systemic racism, and the president's own lack of response to those critical issues, then they forcibly remove them with armed federal officials [and] pepper bombs because the president considers them terrorists. "
Download the new Independent Premium app
Share the full story, not just the headlines
Ms. Jayapal's district encompasses Seattle, where federal agents have been deployed along with local law enforcement to combat demonstrations that, like a similar protest in Portland, the administration has launched as violent riots that require federal force. The attorney general defended his deployment to protect federal properties.
Right-wing "Operation Gridlock" protests against Michigan targeting Governor Gretchen Whitmer's place-of-refuge measure drew members of the militia and armed protesters, although investigations revealed that the composition of the protesters was motivated both by the genuine anger among conservatives as for coordination. "Astroturf" campaigns.
The President urged his followers to "FREE MICHIGAN!" to undermine preventive mandates to stay home while his administration faced intense scrutiny over Covid-19's response.
Attorney General Barr said he was "unaware" of calls for Governor Whitmer to be "lynched, shot, and beheaded."
"There are a lot of protests across the United States," he said.
The attorney general said the closing protests fell outside his jurisdiction because they did not invade federal properties, although the protests in Michigan were near the Chamberlain Federal Building.
"With certain protests, you are very aware of that," replied Ms. Jayapal. "But in Michigan, when protesters carried Confederate and swastika flags and flags, they asked the governor to be beheaded and lynched and lynched, somehow you are not aware of that … You did not send federal agents to do so with the president." supporters of what you did to the president's protesters. "
Attorney General Barr endured several hours of punitive criticism from Democrats on the committee, refusing to acknowledge that the majority of the thousands of people protesting in Portland are not the violent troublemakers that the administration and Republican allies have They have portrayed and insisted that the federal court that is the scene of nightly demonstrations would be engulfed in flames without federal support.
Congresswoman Zoe Lofgren of California said that "most of [the protesters] they are non-violent "and that the presence of federal troops has precipitated more violence.
"The reaction has actually been in inverse proportion," said Lofgren. "People are showing up because the troops are there."
A "surge" in federal support across a swath of law enforcement agencies has sent officers to several American cities where protests have persisted for more than two months after George Floyd's police murder in Minneapolis, which fueled a movement for international protest to condemn police brutality. and call for significant reforms.
Federal officials have been charged with indiscriminate arrests on the streets of Portland and firing tear gas and pepper spray, as well as other "less lethal" projectiles at point-blank range.
In his opening statement, committee chairman Jerry Nadler said the Attorney General's Justice Department has "endangered Americans and violated their constitutional rights by flooding federal police on the streets of American cities, against the wishes of the state and local leaders of those cities, to forcefully and unconstitutionally repress dissent ".
.